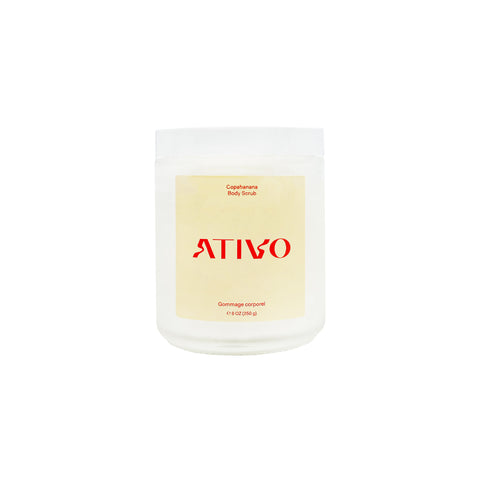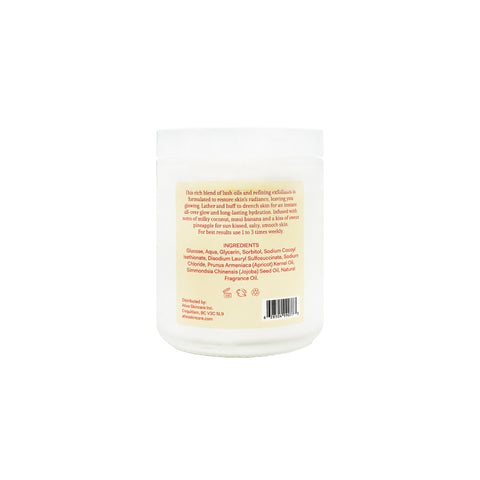 Brand:
Visit the Brand's page by clicking its name.
Ativo Copabanana Body Scrub
Ativo Copabanana Body Scrub
NEW & IMPROVED TEXTURE
Indulge in the opulent fusion of luxurious oils and effective exfoliants designed to rekindle your skin's radiance, leaving you with a luminous glow. Lather and buff to drench your skin in an instant all-over radiance and long-lasting hydration. Immerse yourself in the aromatic essence of milky coconut, Maui banana, and a hint of sweet pineapple, creating a sensation of sun-kissed, silky-smooth skin.
Skin Type:
Suitable for all skin types
Benefits:
Regular use of a body scrub eliminates dead skin, unclogs pores, and helps prevent razor bumps and ingrown hairs.
Aroma + Texture:
Infused with notes of milky coconut, Maui banana, and a hint of sweet pineapple.
How to Use:
In a gentle circular motion, apply the scrub all over the body, avoiding the face.
Rinse off in the shower or bath.
Key Ingredients:
Apricot Kernel Oil: Acts as an emollient, softening the skin and maintaining hydration. Rich in Vitamin A.
Jojoba Seed Oil: Possesses anti-inflammatory properties that help soothe chafing and chapping, reducing redness.
Sugar: Exfoliates dead skin cells, leaving behind a smooth, revitalized texture.
For optimal results, use 1 to 3 times weekly.
logo by flat icon 
RECYCLING WITH ATIVO X PACT COLLECTIVE
 Ativo Skincare is proud to announce that they have partnered with PACT Collective.
Pact is a nonprofit collective taking responsibility for Ativo's industry's packaging problem. Together, we will make beauty more sustainable.