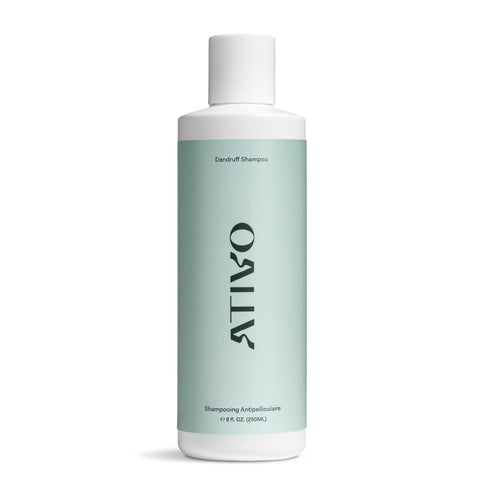 Brand:
Visit the Brand's page by clicking its name.
Ativo Dandruff and Dry Scalp Shampoo
Dandruff Control Shampoo
Our shampoo for dandruff and dry scalp provides a gentle cleansing and moisturizing experience for your scalp. It effectively eliminates dandruff flakes and guards against irritation. Infused with natural ingredients like Chamomile Extract, Aloe Vera, Vitamin B5, and Rooibos Tea Leaf, it nourishes your hair and scalp, leaving them feeling nourished and revitalized. This shampoo is suitable for individuals with color-treated hair and promotes softness and overall hair health.
Skin Type:
  Dandruff and dry itchy scalp
Benefits:
  Helps to further decrease dandruff and dry scalp hair by adding moisture to the scalp. Manages loose flakes to help them rinse away easily.
Aroma + Texture:
 How to Use:
  Dispense a small amount of the product onto your hand and apply it gently to wet hair. Massage the shampoo directly onto your scalp, ensuring at least one minute of gentle massaging. Thoroughly rinse your hair and proceed with using the Dandruff and dry scalp conditioner. Rinse your hair again, ensuring all the product is washed out. If necessary, repeat the process to maintain a well-hydrated and contented scalp.
Key Ingredients:
Vitamin B5 works to fortify and nourish the hair follicles, promoting their strength and overall health.
Zinc Pyrithione possesses antifungal, antibacterial, and antimicrobial properties that effectively combat the factors responsible for an itchy scalp.
The blend of botanical extracts synergistically contributes to maintaining a healthy and shining hair and scalp.
Full Ingredients:
Aqua, Decyl Glucoside, Cocamidopropyl Betaine (Derived From Coconut Oil), Sodium C14-16 Olefin Sulfonate, Panthenol (Vitamin B5), Glycerin (Vegetable), Zinc Pyrithione 1% W/w), Salicylic Acid, Parfum (Herbal), Aspalathus Linearis (African Rooibos) Leaf Extract*, Butyrospermum Parkll (African Shea Butter) Fruit Nut Extract*, Pygeum (Prunus Africanum) Bark Extract*, Capsicum Frutescens (African Cayenne) Fruit Extract*, Quillaja (African Saponaria Soap) Bark Extract*, Salix Alba (Willow) Bark Extract*, Camilla Oleifera (Green Tea) Leaf Extract*, Ginkgo Biloba (Ginkgo) Leaf Extract*, Rosemarinus Officinalis (Rosemary) Leaf Extract*, Equisetum Hiremale (Horsetail) Plant Extract*, Urtica Dioca (Nettle) Root Extract, Salvia Officinalis (Sage) Leaf Extract*, Symphytum Officinalis (Comfrey) Root Extract*, Aloe Barbadensis (Aloe Vera) Leaf Extract, Trigonella Foenum Graecum (Fenugreek) Seed Extract*, Citrus Grands (Grapefruit Seed) Extract*, Glucose & Glucose Oxidase & Lactoperoxidase (Natural Preservative), Potassium Sorbate (Food Preservative)
*Organic Ingredients
logo by flat icon 
RECYCLING WITH ATIVO X PACT COLLECTIVE
 Ativo Skincare is proud to announce that they have partnered with PACT Collective.
Pact is a nonprofit collective taking responsibility for Ativo's industry's packaging problem. Together, we will make beauty more sustainable.