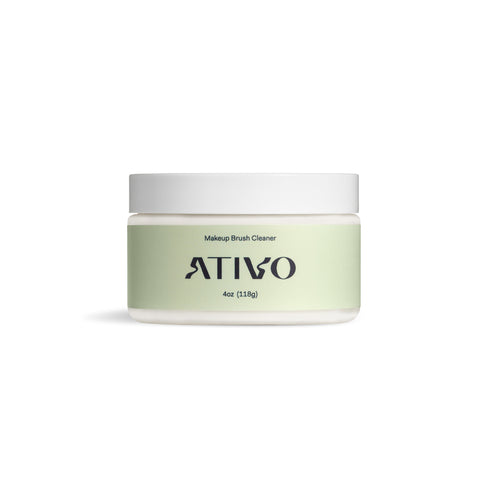 Brand:
Visit the Brand's page by clicking its name.
Ativo Makeup Brush Cleaner Shampoo
Were you aware that your makeup brushes can harbor over a dozen different types of bacteria, including Staphylococcus, Streptococcus, and E. coli? However, there's no need to discard them!
By utilizing our gentle solid makeup brush cleaner and shampoo, even your most luxurious brushes can be effectively cleansed without transferring bacteria to your skin.
Our brush cleaner thoroughly washes away dirt and bacteria, while the added benefits of argan and apricot oil condition your brushes, restoring them to a like-new condition. The generously sized jar is suitable for cleaning large brushes, and it is completely safe for both natural and synthetic bristles. Please ensure to keep the ferrule (the metal part) dry.
 How to Use:
   Place container under warm running water and allow the solid to become wet. Wet the makeup brush without allowing water to enter the ferrule. Move the brush in circular motion allowing the brush to clean. Rinse and repeat until the water runs clean.
logo by flat icon 
RECYCLING WITH ATIVO X PACT COLLECTIVE
 Ativo Skincare is proud to announce that they have partnered with PACT Collective.
Pact is a nonprofit collective taking responsibility for Ativo's industry's packaging problem. Together, we will make beauty more sustainable.