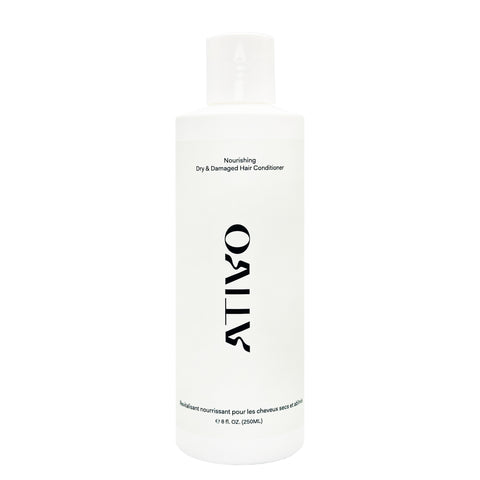 Brand:
Visit the Brand's page by clicking its name.
Ativo Nourishing Dry Damaged Conditioner
Ativo Nourishing Dry Damaged Conditioner
INTENSE HYDRATION TO RESTORE AND NOURISH
Our daily conditioner is tailored for individuals with dry, damaged, or chemically treated hair. Fortified with a powerful blend of soy protein and shea butter, it acts swiftly to revitalize and repair dry hair upon contact. This revitalizing formula not only repairs but also restores your hair's natural luster and softness. The results are remarkably effective; you'll notice and feel the difference after just one use. Plus, it boasts a rich and creamy texture for a luxurious experience.
Skin Type:
Ideal for thick, dry, and damaged hair, safe for chemically treated hair.
Benefits:
Instantly revitalizes and repairs dry, damaged hair, restoring its natural sheen and softness.
Aroma + Texture:
A thick cream consistency
How to Use:
Squeeze a suitable amount into your palm and gently massage it into wet hair.
Focus on massaging it directly onto the scalp for at least one minute.
Rinse thoroughly and repeat as necessary to maintain a well-hydrated and contented scalp.
Key Ingredients:
Soy Protein: Enhances hair's gloss, texture, moisture retention, manageability, and body.
Aloe Vera and Chamomile: Provides shine and silkiness.
Vitamin B5: Strengthens and nourishes hair follicles.
A combination of botanical extracts contributes to healthy, shiny hair and a rejuvenated scalp.


logo by flat icon 
RECYCLING WITH ATIVO X PACT COLLECTIVE
 Ativo Skincare is proud to announce that they have partnered with PACT Collective.
Pact is a nonprofit collective taking responsibility for Ativo's industry's packaging problem. Together, we will make beauty more sustainable.