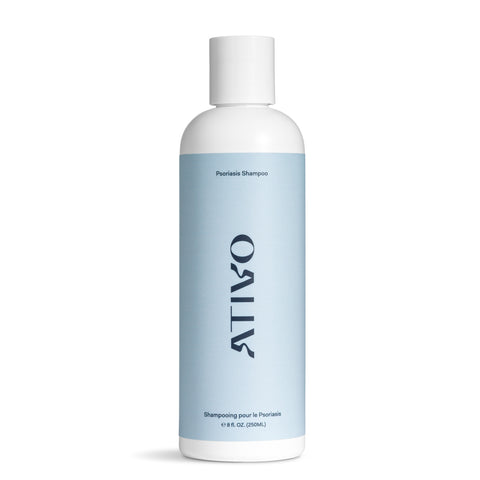 Brand:
Visit the Brand's page by clicking its name.
Ativo Psoriasis and Itchy Scalp Shampoo
Moisturizing Scalp Shampoo
Our Psoriasis Shampoo provides relief for an itchy scalp by gently softening tough, crusty scales and prominent flakes, while also reducing the redness and itchiness commonly associated with psoriasis. The larger scales and flakes become more supple, making them easier to remove. Through the combined action of tea tree, wheat protein, and neem oil, this shampoo promotes a healthier scalp. It is also safe to use on color-treated hair. Additionally, the shampoo produces a rich and creamy lather for a pleasurable washing experience. 
Skin Type:
   Psoriasis and Itchy Scalp
Benefits:
   Helps to soothe and soften the hard crusty scales and large flakes while easing the redness and itch that can be associated with psoriasis.
Aroma + Texture:
 How to Use:
   Apply to wet hair, massage in well for at least a minute, then rinse out with warm water. Repeat if required. Follow with the psoriasis conditioner
Key Ingredients:
Tea Tree Oil: With its antimicrobial properties, Tea Tree Oil helps combat scalp issues by fighting off microorganisms that can cause problems like dandruff and scalp infections.
Neem Oil: Neem Oil is known for its soothing properties, helping to alleviate scalp inflammation and providing relief from conditions such as itchiness. Additionally, it can help smoothen frizzy hair, promoting a more manageable and polished look.
Vitamin B5: Vitamin B5 works to strengthen and nourish the hair follicles, supporting healthy hair growth and overall hair health.
Botanical Extracts: A blend of botanical extracts is included to contribute to the maintenance of healthy and shiny hair as well as a healthy scalp. These extracts provide additional nourishment and benefits for both the hair and scalp.
Full Ingredients:
Water (Aqua), Decyl Glucoside, Cocamidopropyl Betaine (Derived From Coconut Oil), Sodium C14-16,olefin Sulfonate, Panthenol (Vitamin B5), Glycerin (Vegetable), Melaleuca Alternifolia (Tea Tree) Leaf Oil, Azadirachta Indica (Neem Oil) Leaf, Parfum (Herbal), Aspalathus Linearis (African Rooibos) Leaf Extract*, Butyrospermum ParklI (African Shea Butter) Fruit Nut Extract*, Pygeum (Prunus Africanum) Bark Extract*, Capsicum Frutescens (African Cayenne) Fruit Extract*, Quillaja (African Saponaria Soap) Bark Extract*, Camillia Oleifera (Green Tea Leaf Extract*,ginkgo Biloba (Ginkgo) Leaf Extract*, Rosemarinus Officinalis (Rosemary) Leaf Extract*, Equisetum Hiremale (Horsetail) Plant Extract*, Urtica Dioca (Nettle) Root Extract, Salvia Officinalis (Sage) Leaf Extract*, Symphytum Officinalis (Comfrey) Root Extract*, Aloe Barbadensis (Aloe Vera) Leaf Extract, Citrus Grandis (Grapefruit Seed) Extract*, Glucose & Glucose Oxidase amp; Lactoperoxidase (Natural Preservative), Potassium Sorbate (Food Preservative) *Organic Ingredients
logo by flat icon 
RECYCLING WITH ATIVO X PACT COLLECTIVE
 Ativo Skincare is proud to announce that they have partnered with PACT Collective.
Pact is a nonprofit collective taking responsibility for Ativo's industry's packaging problem. Together, we will make beauty more sustainable.