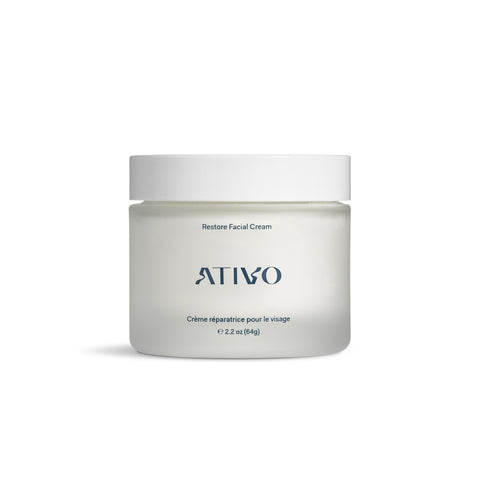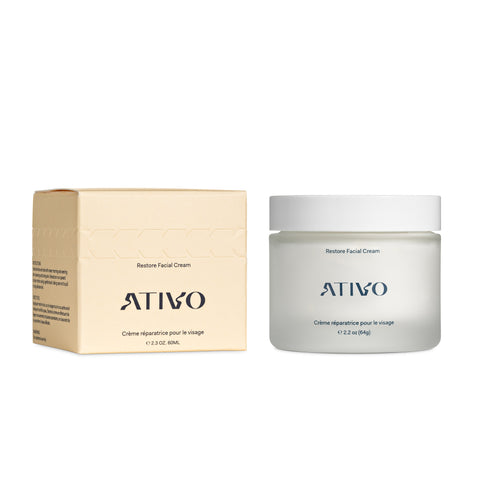 Brand:
Visit the Brand's page by clicking its name.
Ativo Restore Facial Cream
Ativo Restore Facial Cream


Experience the pinnacle of skin hydration and nourishment with our advanced facial moisturizer. Crafted with a blend of potent ingredients, including OptiMSM, a crucial nutrient for aging skin, this cream delivers remarkable results. It's meticulously formulated to strike the perfect harmony between hydration and skin tone, revitalizing dry, lackluster skin for a youthful, radiant glow.

Skin Type:

Suitable for Normal, Dry, Extremely Dry, Red, Hot, Sensitive Skin

Benefits:

Firms and lifts the skin
Provides intense hydration and nourishment
Enhances skin plumpness
Safeguards against environmental damage
Aroma + Texture:


Fragrance-free
A luxurious, velvety cream with a medium-weight texture

How to Use:

Experience the ultimate hydration and skin rejuvenation with our advanced facial moisturizer.
Infused with a potent blend of ingredients, including the essential nutrient OptiMSM, it yields powerful results.
This moisturizer is meticulously designed to restore dry, lackluster skin, promoting a youthful, radiant complexion.
The antioxidant-rich formula not only shields against environmental damage but also enhances elasticity, reducing the appearance of fine lines and wrinkles.
The hydrating properties of natural MSM, combined with its rejuvenating characteristics, make this cream the ultimate daily moisturizer.
Say hello to a more youthful, radiant appearance.


logo by flat icon 
RECYCLING WITH ATIVO X PACT COLLECTIVE
 Ativo Skincare is proud to announce that they have partnered with PACT Collective.
Pact is a nonprofit collective taking responsibility for Ativo's industry's packaging problem. Together, we will make beauty more sustainable.