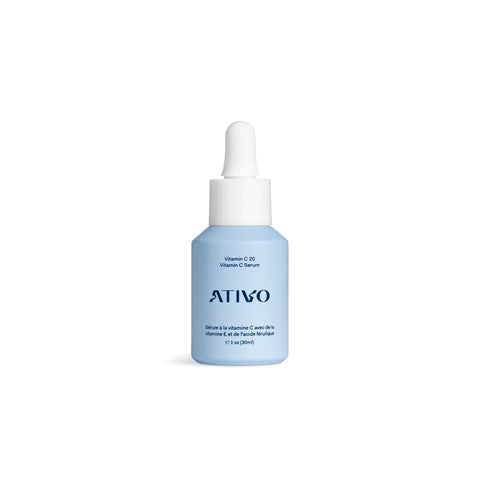 Brand:
Visit the Brand's page by clicking its name.
Ativo Vital C 20 Vitamin C Serum
Ativo Vital C 20 Vitamin C Serum


Brightening Vitamin C Serum

Our advanced Vital C 20 Vitamin C Serum is a potent blend of ingredients, featuring 20% Vitamin C, 1% Vitamin E, and 1% Ferulic Acid. This antioxidant-rich serum is a formidable weapon against skin concerns. It not only brightens the skin but also helps diminish sunspots, age spots, hyperpigmentation, and fine lines, leaving you with a luminous and deeply hydrated complexion.

Powered by cutting-edge plant stem cell technology, our vitamin C serum is a robust defender against free radicals. We've harnessed the power of plant stem cells to brighten the skin, stimulate collagen production, and even out skin tone.


Skin Type:

Suitable for Normal, Dry, Oily, Combination, Sensitive Skin
Benefits:

Enhances skin brightness and evens out tone
Fades age and sunspots, as well as hyperpigmentation
Improves skin texture and firmness
Boosts collagen production
Reduces the appearance of fine lines and wrinkles
Minimizes the look of pores
Provides hydration and fortifies the skin's barrier
Functions as a natural lubricant, aiding collagen production.

Aroma + Texture:

A liquid serum

How to Use:

Step 3 in your skincare routine, to be applied after your toner.
Dispense 5 to 7 drops into the palm of your hand and gently massage it evenly onto your face and neck until absorbed by the skin.
Use it daily in the morning or evening on cleansed skin, before applying your moisturizer.
Please note, do not layer with Retinol products. If you use retinol, apply Vitamin C in the morning and retinol in the evening.

logo by flat icon 
RECYCLING WITH ATIVO X PACT COLLECTIVE
 Ativo Skincare is proud to announce that they have partnered with PACT Collective.
Pact is a nonprofit collective taking responsibility for Ativo's industry's packaging problem. Together, we will make beauty more sustainable.