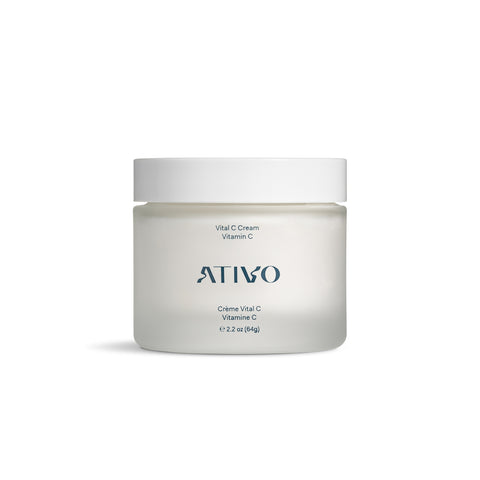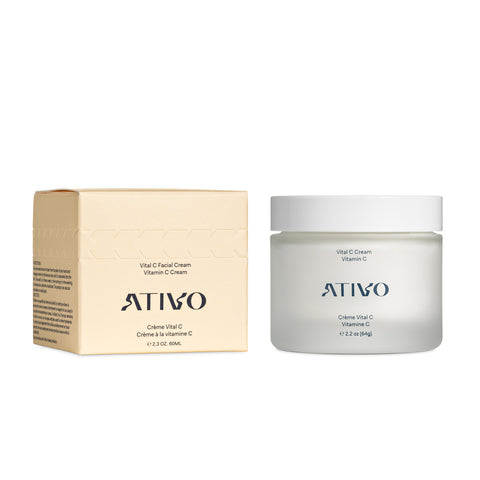 Brand:
Visit the Brand's page by clicking its name.
Ativo Vital C Vitamin C Cream
Creamy Rich Facial Cream
The Canadian fragrance-free Vitamin C Cream is packed with potent antioxidants that combat the harmful effects of free radicals. It supports the skin's elasticity and firmness during its natural nightly repair process. By addressing the signs of aging, this cream helps achieve a more radiant complexion, reduces the appearance of fine lines and wrinkles, and enhances overall skin texture. It serves as an ideal night cream for comprehensive skincare.
 - Skin Type
    All

 - Benefits
     
Fades age and sunspots along with hyperpigmentation 
Improves Texture and Firmness
Boosts Collagen Production
Helps reduce fine lines and wrinkles
Minimizes the Appearance of Pores
Brightens Skin Tone 


 - Aroma + Texture
    Creamy Thick Face Cream
 How to Use:
   Apply a pea-size amount into the palm of your hand and massage evenly to face and neck until absorbed by the skin. Use 2 to 3 times per week in the am or pm on cleansed skin before your moisturizer.  This product is safe to be used daily as well. 
logo by flat icon 
RECYCLING WITH ATIVO X PACT COLLECTIVE
 Ativo Skincare is proud to announce that they have partnered with PACT Collective.
Pact is a nonprofit collective taking responsibility for Ativo's industry's packaging problem. Together, we will make beauty more sustainable.