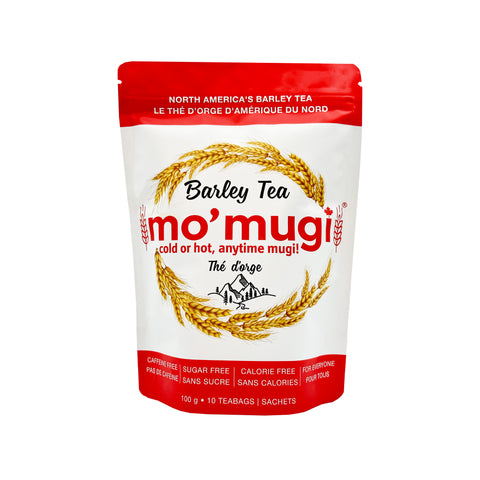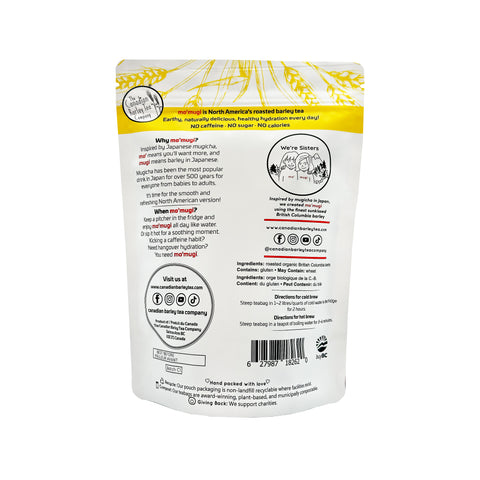 Brand:
Canadian Barley Tea
Visit the Brand's page by clicking its name.
Canadian Barley Tea Mo'Mugi
Discover the Goodness of Canadian Barley Tea: Mo'Mugi
A Healthy and Unique Choice
Barley tea, a beloved and healthier alternative to many beverages, offers a delightful roasty, nutty flavor with a hint of divine popcorn aroma. Let's delve into what makes it an exceptional choice for your well-being.
Naturally Caffeine-Free
1) No Caffeine: Mo'Mugi barley tea is naturally caffeine-free, ensuring you won't experience the jitters or dehydration. Its natural, great taste requires no additional additives.
Sugar-Free and Refreshing
2) No Sugar: Mo'Mugi barley tea is a sugar-free, all-natural drink, perfect for those aiming to maintain or lose weight. Unlike sugary beverages, it's a healthier option, devoid of any natural or added sugar or artificial colors.
Ultimate Hydration
3) Ultra Hydrating: Barley tea excels in keeping you hydrated. As documented in the Journal of Nutritional Science and Vitaminology, it enhances blood circulation faster than water. Enjoy it all day long, just like flavored water, without caffeine, sugar, or excess calories. Plus, it's an excellent hangover remedy.
Packed with Antioxidants
4) Contains Antioxidants: Mo'Mugi barley tea offers antioxidants, as discussed in The Semantic Scholar. These antioxidants protect your body from free radical damage, reducing the risk of chronic diseases.
Supports Digestive Health
5) Promotes Digestive Health: Barley tea contains compounds known to improve digestive health. According to a study in The Japan Food Journal, it soothes stomach inflammation.
Teeth-Friendly
6) Won't Stain Your Teeth: Unlike other teas and coffee, barley tea doesn't contain tannins that can make your drink bitter and stain your teeth. Enzymes in roasted barley tea, as noted in the Journal of Agricultural and Food Chemistry, have anti-adhesive properties that protect against plaque.
Environmentally Conscious
7) Sustainable and Eco-Friendly: Mo'Mugi teabags have earned awards for being plant-based and free of plastics and adhesives. They're compostable in municipal composters, contributing to our sustainable journey. We source our organic barley locally, reducing our carbon footprint. Our pouch packaging is transformed into fuel at Recycle BC Depots.
Effortless Brewing
8) Super Easy to Make: Preparing iced Mo'Mugi barley tea is a breeze, whether you're at home or on the go. Simply add a couple of teabags to a pitcher of cold water and steep it in the fridge. No need for the fuss of boiling water and worrying about glass or plastic containers.
Ingredients: roasted organic British Columbia barley
Contains: gluten • May Contain: wheat
Directions for cold brew
Steep teabag in 1~2 litres/quarts of cold water in the fridge for 2 hours.
Directions for hot brew
Steep teabag in a teapot of boiling water for 3-6 minutes.