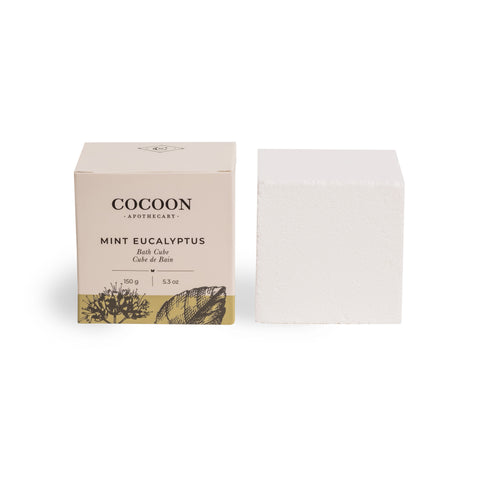 Brand:
Visit the Brand's page by clicking its name.
Cocoon Bath Cube - Mint Eucalyptus
Cocoon Bath Cube - Mint Eucalyptus
Elevate Your Bathing Experience
Savor a lavish bath with our cube-shaped bath bombs, exuding effervescence in the water and leaving your skin delicately soft and exfoliated. Infused with organic castor oil, they offer a touch of rejuvenating moisturization.
The invigorating blend of Mint Eucalyptus presents a dual promise of serenity and healing. It leaves you refreshed and invigorated, making every bath a revitalizing experience.
HERO INGREDIENTS:
Castor Seed Oil
Eucalyptus Essential Oil
Spearmint Essential Oil
Full Ingredient List:
Baking soda
Citric acid
Castor seed oil*
Eucalyptus essential oil*
Spearmint essential oil*
*Certified organic
How To Use:
Place the bath cube in a tub filled with hot water.
Post-bath, rinse the tub for a seamless experience.
Size:
Smells Like:
A harmonious blend of mint and eucalyptus.
Packaging:
Thoughtfully presented in an eco-friendly paper box.