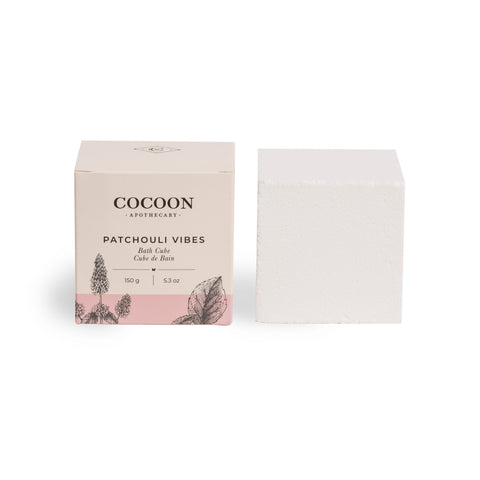 Brand:
Visit the Brand's page by clicking its name.
Cocoon Bath Cube - Patchouli Vibes
Cocoon Bath Cube - Patchouli Vibes
Elevate Your Bathing Experience
Elevate your bath into a luxurious ritual with our cube-shaped bath bombs, each releasing a captivating effervescence in the water, leaving your skin feeling delicately soft and exfoliated. Infused with organic castor oil, they extend a touch of indulgent moisturization.
Immerse yourself in the enchanting embrace of Patchouli Vibes, a fragrance that exudes relaxation and grounding. With a sweet note that adds a hint of serenity to your bathing routine, you'll find every bath to be a blissful experience.
HERO INGREDIENTS:
Castor Seed Oil
Patchouli Essential Oil
Frankincense Essential Oil
Grapefruit Essential Oil
Full Ingredient List:
Baking soda
Citric acid
Castor seed oil*
Patchouli essential oil
Frankincense essential oil
Grapefruit essential oil
*Certified organic
How To Use:
Place the bath cube in a tub filled with hot water.
After your bath, remember to rinse the tub for a seamless experience.
Size:
Smells Like:
A harmonious fusion of patchouli, frankincense, and grapefruit.
Packaging:
Presented in an eco-friendly paper box.