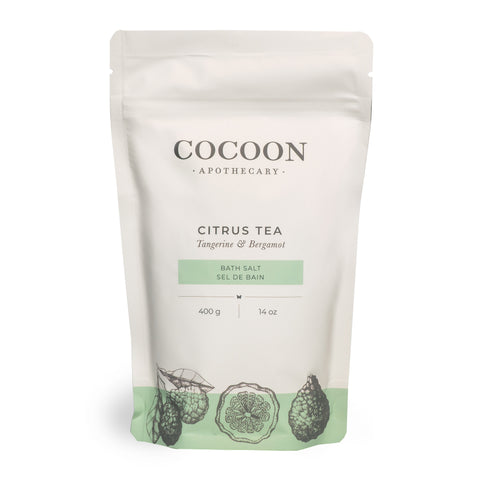 Brand:
Visit the Brand's page by clicking its name.
Cocoon Bath Salts - Citrus Tea
Cocoon Bath Salts - Citrus Tea
Unlock Ultimate Relaxation
Unwind and immerse yourself in the pinnacle of relaxation with our bath salts, offering the perfect sanctuary to decompress after a long, demanding day. Our therapeutic blend unites Dead Sea salts, Epsom salts, and pure essential oils in perfect harmony, working together to soothe your muscles, pamper your skin, and turn your bathwater into a velvety haven.
Our oil blends are thoughtfully selected to deliver a spa experience right in the comfort of your home. The invigorating essence of citrus tea elevates your mood, leaving you feeling serene and tranquil.
HERO INGREDIENTS:
Dead Sea Salts
Epsom Salts
Bergamot Essential Oil
Tangerine Essential Oil
How To Use:
Pour 1/4 of the contents into hot bath water and let the relaxation begin.
Size:
Smells Like:
A harmonious blend of bergamot and tangerine.
Packaging:
Presented in a convenient pouch with a zip-lock closure.