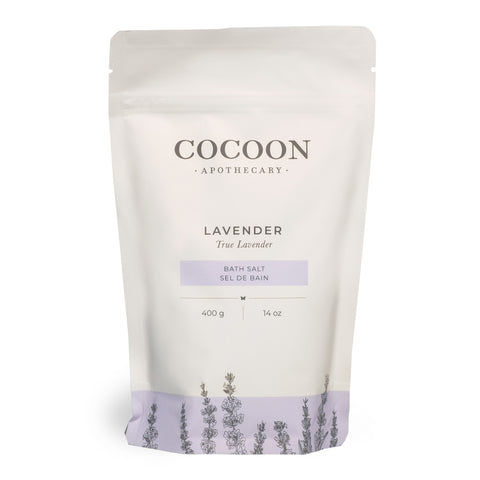 Brand:
Visit the Brand's page by clicking its name.
Cocoon Bath Salts - Lavender
Cocoon Bath Salts - Lavender
Unlock Ultimate Relaxation
Step into the epitome of relaxation with our bath salts, offering the perfect avenue to unwind after a taxing day. Our therapeutic blend comprises Dead Sea salts, Epsom salts, and pure essential oils, seamlessly working together to alleviate muscle tension, quench your skin's thirst, and transform your bathwater into a velvety retreat.
Our oil blends are thoughtfully curated to deliver a spa experience right within the confines of your home. With the gentle essence of lavender, celebrated for its calming attributes, you'll discover a haven of tranquility, making it a superb choice for those in pursuit of serenity.
HERO INGREDIENTS:
Dead Sea Salts
Epsom Salts
Lavender Essential Oil
How To Use:
Pour 1/4 of the contents into a hot bath, and let relaxation take over.
Size:
Smells Like:
A soothing embrace of lavender.
Packaging:
Presented in a convenient pouch with a secure zip-lock closure.