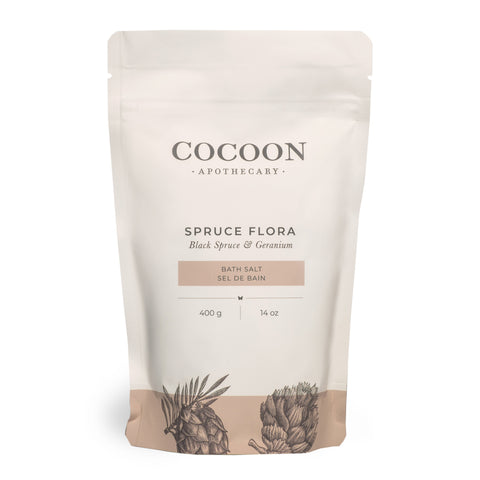 Brand:
Visit the Brand's page by clicking its name.
Cocoon Bath Salts - Spruce Flora
Cocoon Bath Salts - Spruce Flora
Unlock Ultimate Relaxation
Dive into the zenith of relaxation with our bath salts, providing the perfect avenue to unwind after a demanding day. Our therapeutic blend harmoniously combines Dead Sea salts, Epsom salts, and pure essential oils to soothe muscles, hydrate skin, and transform your bathwater into a sanctuary of indulgence.
Our oil blends are meticulously chosen to deliver a spa experience within the sanctuary of your home. With the uplifting woodsy aroma of Spruce Flora, you'll be transported to your own happy place.
HERO INGREDIENTS:
Dead Sea Salts
Epsom Salts
Black Spruce Essential Oil
Geranium Essential Oil
Full Ingredient List:
Epsom Salt
Dead Sea Salt
Black Spruce Essential Oil
Lavender Essential Oil
Geranium Essential Oil
How To Use:
Simply pour 1/4 of the contents into your hot bathwater and let relaxation envelop you.
Size:
Smells Like:
A harmonious blend of Black Spruce, lavender, and geranium.
Packaging:
Conveniently packaged in a pouch with a secure zip-lock closure.