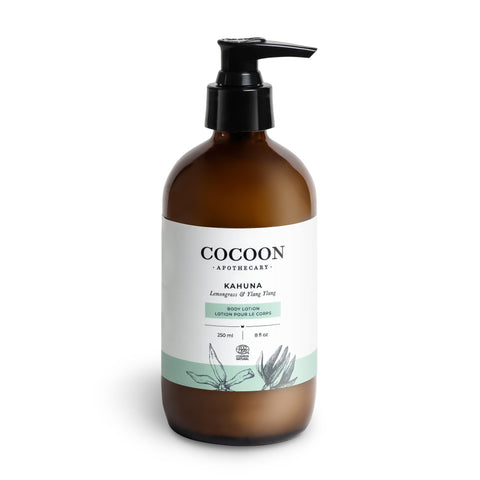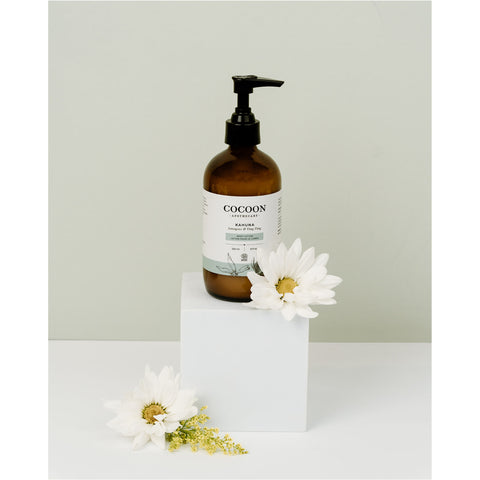 Brand:
Visit the Brand's page by clicking its name.
Cocoon Kahuna Body Lotion
Cocoon Kahuna Body Lotion
Embrace a Tropical Paradise
Experience the essence of a tropical paradise with Kahuna body lotion, where indulgence meets moisturization. Enriched with the captivating fragrances of fresh lemongrass, delicate ylang-ylang, and sweet coconut, this lotion provides a super-hydrating experience that's rapidly absorbed by your skin. The opulent oils of virgin coconut and macadamia nut seal in moisture, leaving your skin feeling soft and hydrated with a feather-light touch.
Each application becomes a sensory journey to the tropics, immersing you in the invigorating aromas of ylang-ylang and lemongrass. Beyond its aromatic allure, this lotion excels in toning and revitalizing the skin, working to reduce the appearance of cellulite. Its rich content of antioxidants and fatty acids also bestows pro-aging benefits, making it suitable for all skin types.
HERO INGREDIENTS:
Coconut Oil
Macadamia Nut Oil
Lemongrass Essential Oil
Ylang Ylang Essential Oil
Full Ingredient List:
Water
Macadamia Nut Oil
Virgin Coconut Oil
Cetearyl Alcohol
Glycerin
Stearic Acid
Tocopherol
Sodium Cetearyl Sulfate
Sodium Anisate
Sodium Levulinate
Glyceryl Caprylate
Lemongrass Essential Oil
Ylang Ylang Essential Oil
How To Use:
Apply to clean, dry skin in the morning and evening.
Size:
Smells Like:
The harmonious blend of Lemongrass and Ylang Ylang.
Packaging:
Presented in a glass bottle with a convenient pump.