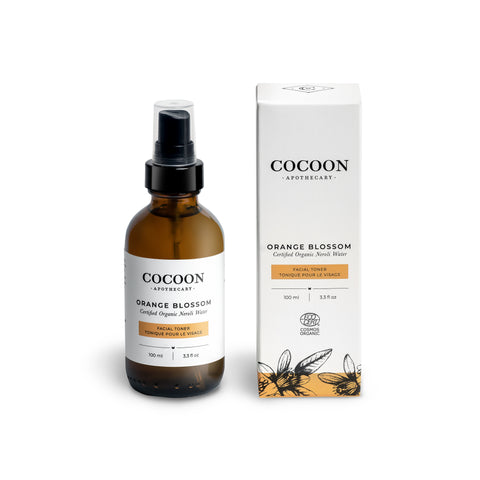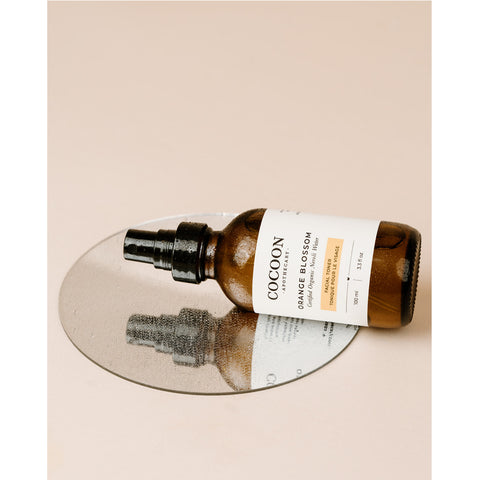 Brand:
Visit the Brand's page by clicking its name.
Cocoon Orange Blossom Facial Toner
Cocoon Orange Blossom Facial Toner
Rejuvenate and Rebalance
Elevate your skincare regimen with this certified organic toner, meticulously crafted to nourish and harmonize your skin through the power of potent plant actives. Its primary ingredient is the essence of orange blossom water, distilled and imbued with flower power to deliver a spectrum of benefits. This water-based toner imparts a soothing, cooling effect, making it an essential addition to your skincare routine.
By embracing this toner, you'll savor the refinement of your pores, a reduction in excess oil, and the banishment of dirt from your skin. An arsenal of robust antioxidants, terpenes, and astringents collaborates to shield your skin from harm while fostering a wholesome, balanced complexion. Furthermore, this Ecocert Cosmos Organic formula is packaged in an eco-friendly glass bottle with a convenient mister, ensuring that you're making a responsible choice for both your skin and the environment.
HERO INGREDIENTS:
Full Ingredient List:
Orange blossom flower water*
Sodium levulinate
Sodium anisate
Glycerin
Water
*Certified Organic
How To Use:
Spritz directly onto clean skin and allow it to air dry before applying moisturizer.
Size:
Available in a 100 ml / 3.3 fl oz glass bottle.
Smells Like:
A delightful fusion of citrus and floral notes.
Packaging:
Presented in a recyclable glass bottle with a convenient mister, thoughtfully encased in a paper box.