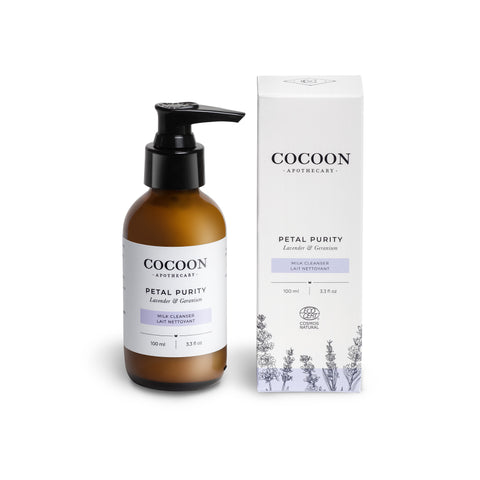 Brand:
Visit the Brand's page by clicking its name.
Cocoon Petal Purity Milk Cleanser
Cocoon Petal Purity Milk Cleanser
Gentle, Natural Skin Cleansing
Experience a natural and gentle way to cleanse your skin with our Petal Purity Milk Cleanser. Formulated with a plant-based emulsion of oils and water, it effortlessly removes dirt and grime while preserving the skin's natural oils and moisture. Diverging from traditional cleansers, this product relies on emollients instead of foaming agents to accomplish this delicate task.
Our milk cleanser is fortified with the purity of coconut oil, rich in cleansing lauric acid, and sweet almond oil, which contains skin-softening fatty acids, vitamin E, and squalene. Additionally, it features the serene and relaxing floral terpenes of lavender and geranium.
Tailored for individuals with dry and sensitive skin, this formula seeks to maintain a healthy, balanced complexion. It delves deep into cleansing and purifying the skin, leaving it feeling revitalized and refreshed. As an Ecocert Cosmos Natural product, it is housed in a recyclable glass bottle, showcasing our commitment to an eco-conscious skincare routine.
HERO INGREDIENTS:
Coconut Oil
Almond Oil
Lavender Essential Oil
Geranium Essential Oil
Full Ingredient List:
Water
Sweet almond oil*
Virgin coconut oil*
Cetearyl alcohol
Stearic acid
Glycerin
Sodium cetearyl sulfate
Lavender essential oil*
Geranium essential oil
Tocopherol
Sodium anisate
Sodium levulinate
Glyceryl caprylate
*Certified Organic
How To Use:
Apply to dry or wet skin in a circular motion and rinse with water. Suitable for both morning and night use.
Size:
Available in 100 ml / 3.3 fl oz and 250 ml / 8 fl oz glass bottles. The 100 ml size comes in a recyclable paper box.
Smells Like:
Lavender and geranium, offering a soothing aromatic experience.
Packaging:
Presented in eco-friendly glass bottles with a convenient pump.