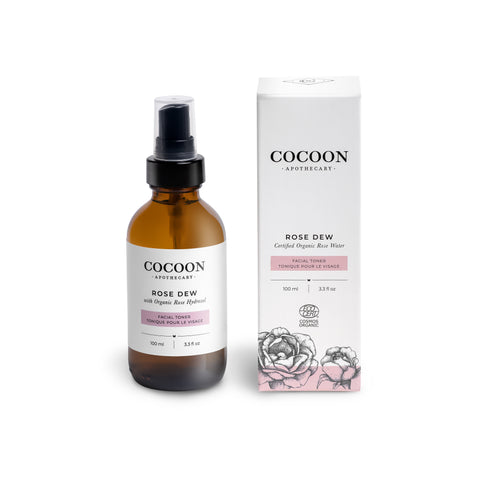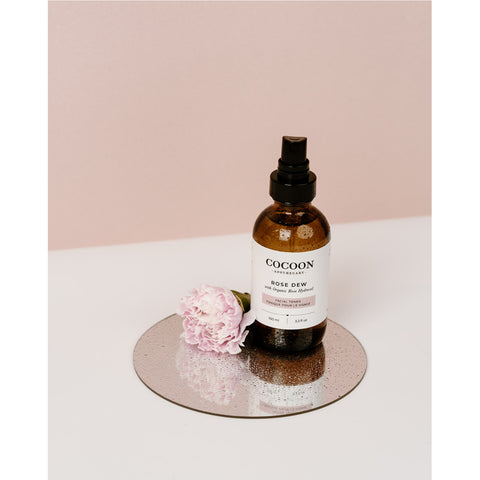 Brand:
Visit the Brand's page by clicking its name.
Cocoon Rose Dew Facial Toner
Cocoon Rose Dew Facial Toner
Certified Organic Rose Water Elixir
Introducing our Rose Dew Toner, a certified organic elixir showcasing rose water as its core ingredient. Despite its simplicity, rose water stands as a potent beauty secret, cherished for centuries. Laden with terpenes that deliver soothing and cooling effects to the skin and enriched with polyphenol antioxidants, it nourishes and revitalizes your complexion. Furthermore, the monosaccharides within rose water maintain skin hydration while offering an extra boost of antioxidants.
Our Rose Dew Toner is exceptionally gentle and non-drying, making it the perfect choice for those with sensitive skin. Its remarkable soothing and cooling properties aid in reducing redness associated with dry skin. This toner delivers a hydration-infused elixir packed with antioxidants and polysaccharides, ensuring your skin's moisture balance. An invaluable addition to any dry or sensitive skincare regimen, this toner adheres to Ecocert Cosmos Organic standards and is elegantly packaged in a glass bottle equipped with a mister.
HERO INGREDIENTS:
Full Ingredient List:
Rose flower water*
Sodium levulinate
Sodium anisate
Glycerin
Water
*Certified Organic
How To Use:
Spritz directly onto clean skin and allow it to air dry before moisturizing.
Size:
Available in a 100 ml / 3.3 fl oz glass bottle, presented in a recyclable paper box.
Smells Like:
The gentle fragrance of roses.
Packaging:
Encased in an eco-friendly glass bottle complete with a convenient mister.