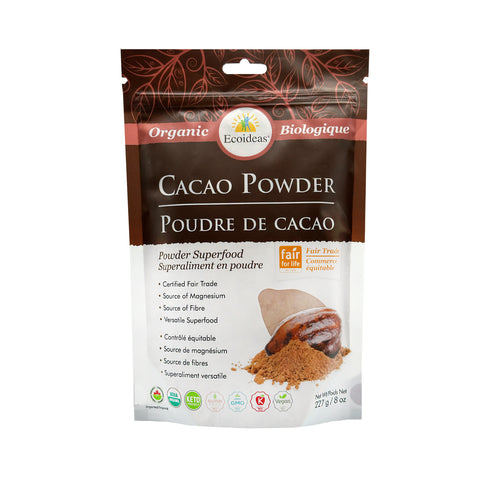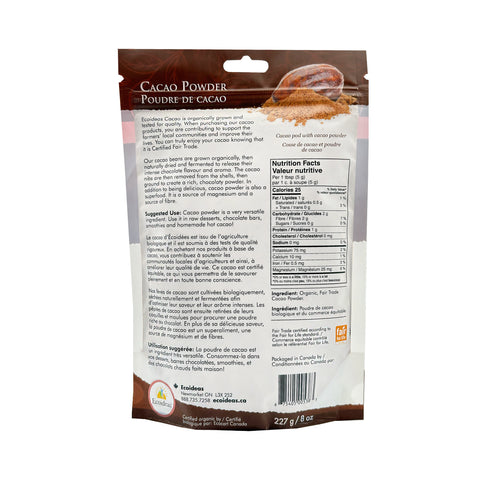 Brand:
Visit the Brand's page by clicking its name.
Ecoideas Organic Fair Trade Cacao Powder
Discover Ecoideas Organic Fair Trade Cacao Powder – Ethical Indulgence for Health and Sustainability
Premium Organic Fair Trade Cacao Powder – Nourish Your Body the Canadian Way
Elevate Your Culinary Creations with Ecoideas Cacao Powder
Indulge responsibly with Ecoideas Organic Fair Trade Cacao Powder, a testament to ethical sourcing and sustainable living. Our carefully curated cacao powder embodies the essence of quality and community, supporting farmers and promoting well-being.
Nourish Your Body, Nourish Your Values
Savor the rich flavors and values in every spoonful of Ecoideas Cacao. Sourced responsibly and cultivated with care, our cacao beans undergo natural drying and expert fermentation, delivering an intense chocolatey essence. Enjoy a superfood that's abundant in magnesium and fiber, enriching your health and supporting ethical practices.
Wholesome Nutrition in Every Serving
Elevate your culinary endeavors with Ecoideas Organic Fair Trade Cacao Powder. At just 25 calories per 1 tbsp (5 g) serving, it offers 1g of fats, 2g of carbohydrates, and a substantial 2g of dietary fiber. The perfect addition to your mindful lifestyle.
Unleash Culinary Magic with Ecoideas Cacao
Ignite your culinary imagination with the versatile Ecoideas Cacao Powder. Elevate your favorite raw desserts, craft artisanal chocolate bars, and enhance your nutritious smoothies. Create heartwarming homemade hot cacao, embracing the essence of conscious Canadian consumption.
Usage Instructions: From Desserts to Drinks
Unleash the potential of Ecoideas Cacao Powder in your kitchen. Elevate the flavors of your raw desserts, enliven your chocolate creations, and supercharge your smoothies. Dive into the comforts of homemade hot cacao, enjoying the genuine taste of Canadian goodness.
Nourishing Nutritional Facts
Nutrition Facts per 1 tbsp (5 g) serving:
Calories: 25
Fat: 1 g (1%)
Saturated Fat: 0.5 g
Trans Fat: 0 g
Carbohydrates: 2 g
Fiber: 2 g (7%)
Sugars: 0 g
Protein: 1 g
Cholesterol: 0 mg
Sodium: 0 mg
Potassium: 75 mg
Calcium: 10 mg
Iron: 0.5 mg (3%)
Magnesium: 25 mg (6%)
Crafted with Integrity: Our Canadian Touch
Experience the richness of Ecoideas Organic Fair Trade Cacao Powder, a proudly Canadian creation. Certified organic by Ecocert Canada, our cacao powder is meticulously packaged in Canada, reflecting our nation's commitment to excellence and sustainability.