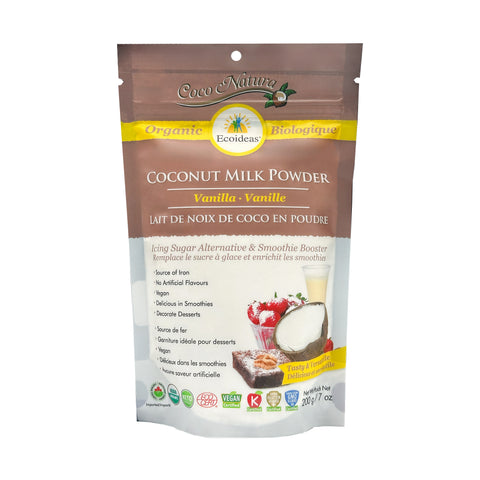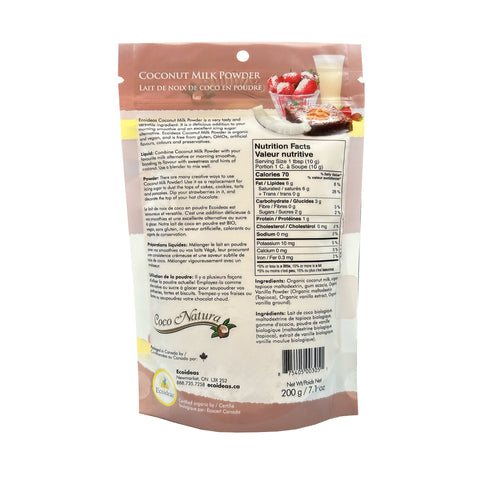 Brand:
Visit the Brand's page by clicking its name.
Ecoideas Coco Natura - Organic Coconut Milk Powder - Vanilla
Ecoideas Coco Natura - Organic Coconut Milk Powder - Vanilla
A Versatile and Delicious Smoothie Booster and Icing Sugar Alternative
Experience the Richness of Organic Coconut Milk with a Hint of Vanilla
Experience the natural goodness of Ecoideas Coco Natura - Organic Coconut Milk Powder with Vanilla, a versatile and delightful ingredient that elevates your culinary creations. Crafted from certified organic coconuts, this coconut milk powder offers a tantalizing hint of vanilla, perfect for enhancing your morning smoothies or adding a touch of sweetness to your favorite treats.
Your Healthy, Vegan, and Gluten-Free Option
Embrace a healthier lifestyle with Coco Natura's Coconut Milk Powder - a vegan-friendly, gluten-free option that's free from GMOs, artificial flavors, colors, and preservatives. Enjoy the richness of organic coconut milk without any compromise, making a responsible and nutritious choice for your well-being.
Creative Uses for Coconut Milk Powder
Discover endless possibilities with Ecoideas Coco Natura. Blend this coconut milk powder with your preferred milk alternative to create smooth, creamy beverages or infuse your morning smoothies with a delightful tropical flavor.
Add a unique twist to your desserts by using this powder as a healthier alternative to icing sugar, dusting the tops of cakes, cookies, tarts, and pancakes. For a fun and tasty treat, dip fresh strawberries in the coconut powder or sprinkle it atop your hot chocolate for a delightful finishing touch.
Uncompromising Quality and Certified Organic
Rest assured, Ecoideas Coco Natura maintains uncompromising quality. Sourced from certified organic coconuts and packaged with care in Canada, this coconut milk powder is certified organic by Ecocert Canada, ensuring authenticity and superior quality. Savor a product that is not only delicious but also sustainably sourced and environmentally friendly.
Experience Nourishment in Every Spoonful
Ecoideas Coco Natura Organic Coconut Milk Powder provides nourishment with each serving. With only 70 calories and 6g of fats per tablespoon, this powder is a source of iron, essential for maintaining a balanced diet. Free from cholesterol, sodium, and trans fats, it makes for a guilt-free addition to your daily routine.
Pure Ingredients for a Wholesome Experience
Indulge in a pure and delightful coconut milk experience. Ecoideas Coco Natura Organic Coconut Milk Powder is carefully crafted from the finest ingredients. With organic coconut for its rich, creamy texture, combined with organic Vanilla, organic maltodextrin (GMO-free) and gum arabic, a natural binder, it's the perfect choice for a wholesome experience. No artificial additives, just pure goodness for your culinary creations.
Enhance your culinary adventures with Ecoideas Coco Natura - Organic Coconut Milk Powder with Vanilla. Enjoy the natural richness of certified organic coconuts while savoring a healthy and responsibly sourced product. With its countless uses and superior quality, this coconut milk powder is perfect for elevating your smoothies, desserts, and more.