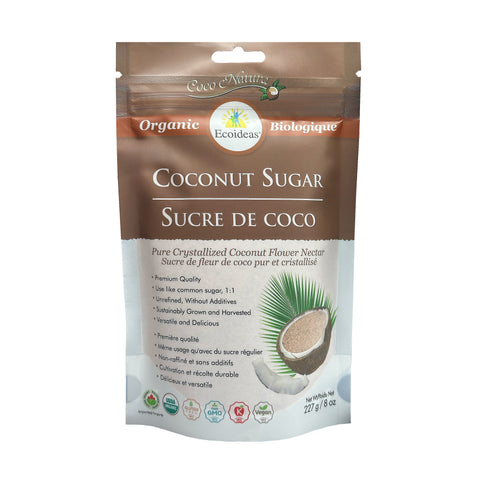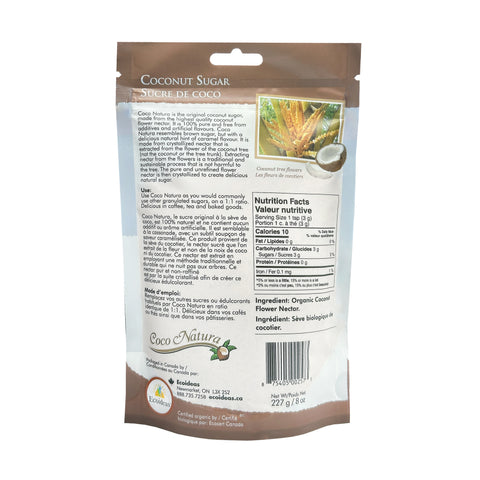 Brand:
Visit the Brand's page by clicking its name.
Ecoideas Coco Natura - Organic Coconut Sweetner (Premium)
Ecoideas Coco Natura - Organic Coconut Sweetener (Premium)
Description
Ecoideas Coco Natura is the original and premium quality coconut sweetener, made from the highest quality coconut flower nectar. It is 100% pure and free from additives and artificial flavors, providing you with a wholesome and natural alternative to refined sugar. With its delightful caramel-like taste, Coco Natura resembles brown sugar and is perfect for a wide range of culinary delights. It is a versatile and delicious addition to your coffee, tea, and baked goods, making it a must-have in your kitchen.
Why Choose Coco Natura
Our coconut sugar is sustainably grown and harvested from the flowers of the coconut tree. The extraction process of nectar from the flowers is traditional and eco-friendly, ensuring that it doesn't harm the tree. The pure and unrefined coconut flower nectar is then carefully crystallized to produce this natural, healthy, and delightful sweetener.
Nutrition Facts
Serving Size: 1 tsp (3 g) Calories: 10
Fat: 0 g, Carbohydrate: 3 g, Sugars: 3 g, Protein: 0 g, Iron: 0.1 mg
Ingredients
Our Coco Natura sweetener is made from organic coconut flower nectar, carefully sourced to ensure the highest quality and purity.
Usage
You can use Coco Natura just like common granulated sugar, with a 1:1 ratio. Whether you're sweetening your beverages or baking your favorite treats, Coco Natura adds a delectable and natural sweetness to your creations.
Net Weight
Each package of Ecoideas Coco Natura contains 227 grams (approximately 8.07 ounces) of premium organic coconut sweetener. 
Experience the Natural Sweetness of Coco Natura
Indulge in the pure and natural goodness of Coco Natura, knowing that you're making a sustainable and eco-conscious choice. With its rich flavor and health benefits, this organic coconut sweetener will delight your taste buds while supporting a greener planet. Add Coco Natura to your pantry today and elevate your recipes to a whole new level of natural sweetness.