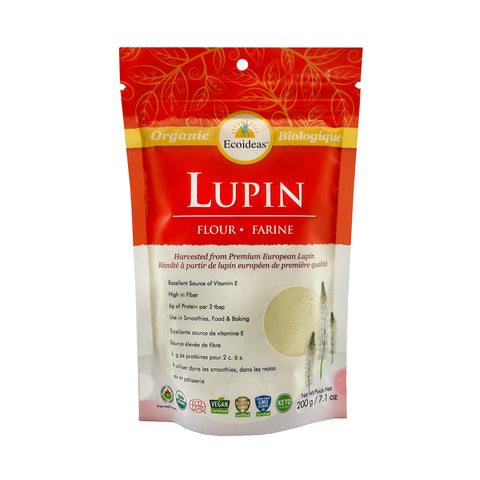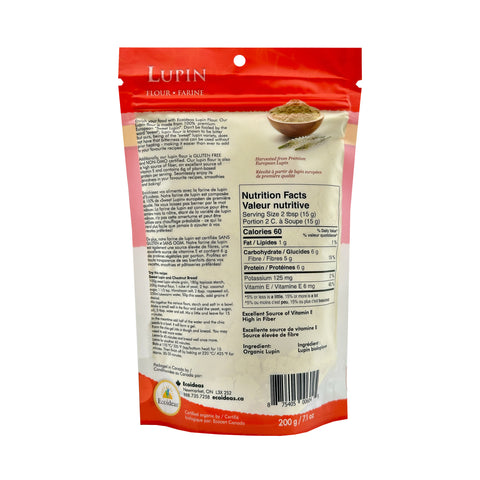 Brand:
Visit the Brand's page by clicking its name.
Ecoideas Organic Lupin Flour
Elevate Your Culinary Adventures with Ecoideas Organic Lupin Flour
Premium European Lupin Flour – Packed with Nutrients for Your Healthy Lifestyle
Discover the Versatility of Ecoideas Lupin Flour
Elevate your cooking and baking endeavors with Ecoideas Organic Lupin Flour. Derived from 100% premium European "Sweet Lupin," this flour is a treasure trove of nutrition that enriches your meals. Be amazed by the wonders of this unique flour, lovingly sourced and meticulously processed.
Nutrient-Rich and Versatile
Indulge in the excellence of nature's bounty with Ecoideas Lupin Flour. Bursting with nutrients, it's your go-to source for Vitamin E and fiber. With an impressive 6g of plant-based protein in every 2-tbsp serving, it's the perfect addition to your smoothies, culinary creations, and baking endeavors.
A Flavorful Journey Awaits
Embark on a flavorful journey with Ecoideas Organic Lupin Flour. Originating from premium European Lupin, this flour adds a rich dimension to your dishes. Its "sweet" lupin variety eliminates bitterness and can be seamlessly incorporated into your favorite recipes without prior heating. A testament to quality and innovation, this gluten-free, NON-GMO certified flour is a culinary delight.
A Taste of Goodness: Try This Recipe
Ready to tantalize your taste buds? Try our delectable recipe for Sweet Lupin and Chestnut Bread:
Ingredients:
100g sweet lupin whole grain
180g tapioca starch
200g chestnut flour
1 cube of yeast
2 tsp. coconut sugar
1 1/2 tsp. Himalayan salt
2 tbsp. rapeseed oil
250ml lukewarm water
50g chia seeds
(add grains if desired)
Recipe Steps:
Mix various flours, starch, and salt in a bowl.
Create a well in the flour and add yeast, sugar, oil, 3 tbsp. water, and salt. Mix and let sit for 15 minutes.

In a separate bowl, combine

half of the water and chia seeds to form a gel.
Add chia-gel into dough, knead, and add more water if needed.
Let the dough rest for 45 minutes, then knead again. Allow it to rest for an additional 60 minutes.
Bake at 170°C/335°F (top/bottom heat) for 15 minutes. Finish off by baking at 220°C/425°F for approx. 30-35 minutes.
Nutritional Powerhouse
Unlock the nutritional potential of Ecoideas Organic Lupin Flour with every serving:
Calories: 60
Fat: 1g (1%)
Carbohydrate: 6g
Fiber: 5g (19% of DV)
Protein: 6g
Potassium: 125mg
Vitamin E: 6mg (40% Daily Value)
Canadian Craftsmanship and Quality Assurance
Experience the fusion of European excellence and Canadian craftsmanship with Ecoideas Organic Lupin Flour. Certified organic by Ecocert Canada, each package reflects our commitment to quality and sustainability. Experience the essence of premium European lupin, carefully packaged in Canada for your culinary pleasure.