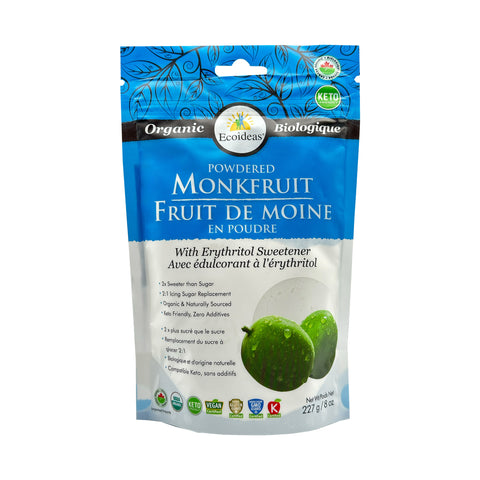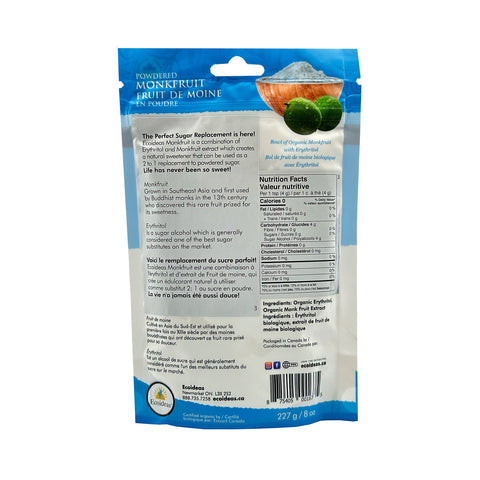 Brand:
Visit the Brand's page by clicking its name.
Ecoideas Organic Monkfruit With Erythritol Sweetener
Experience Pure Sweetness with Ecoideas Organic Monkfruit with Erythritol Sweetener
Organic Monkfruit Sweetener: The Natural Delight of Monkfruit and Erythritol
A Delicate Fusion of Nature's Sweetness 
Indulge guilt-free with Ecoideas Organic Monkfruit Sweetener, a testament to nature's sweet bounty and our commitment to excellence. Our unique blend of Monkfruit extract and Erythritol redefines sweetness, offering a 2:1 powdered sugar replacement that's 2 times sweeter than sugar. Delight in this organic, naturally sourced, keto-friendly alternative without any additives.
Monkfruit: Nature's Hidden Gem
Monkfruit, originating from Southeast Asia, has captivated taste buds for centuries. Discovered by Buddhist monks in the 13th century, this rare fruit is celebrated for its unparalleled sweetness. Revered by tradition and embraced by modern palates, Monkfruit's natural allure shines in every sprinkle of our sweetener.
Erythritol: The Ideal Sugar Substitute
Meet Erythritol, the star sugar substitute renowned for its natural goodness. A sugar alcohol derived from plants, it boasts minimal calories and is a favorite among health-conscious individuals. With a low glycemic index and tooth-friendly attributes, Erythritol perfectly complements Monkfruit, delivering a seamless fusion of sweetness and health.
Sugar Alcohol Unveiled
The intriguing term "Sugar Alcohol" refers to compounds like Erythritol found in our sweetener. Unlike traditional sugars, sugar alcohols are known for their reduced calorie content and impact on blood sugar levels. Embrace the delicate balance of sweet satisfaction and mindful consumption in every serving.
Quality Guaranteed
Celebrate Canadian craftsmanship with Ecoideas Organic Monkfruit Sweetener. Certified organic by Ecocert Canada, this sweetener represents a harmonious blend of global flavors and local commitment. Each package embodies our dedication to providing you with a premium, guilt-free sweetening experience.
Nutritional Information at a Glance
Unveil the nutritional essence of Ecoideas Organic Monkfruit Sweetener in each 1 tsp (4 g) serving:
Calories: 0
Fat: 0g
Carbohydrate: 4g
Fiber: 0g
Sugars: 0g
Sugar Alcohol: 4g
Protein: 0g
Cholesterol: 0mg
Sodium: 0mg
Potassium: 0mg
Calcium: 0mg
Iron: 0mg
The Perfect Sweetener
Elevate your culinary creations with Ecoideas Organic Monkfruit Sweetener, a perfect blend of Monkfruit extract and Erythritol. Meticulously packaged in Canada, it embodies the harmony of nature's sweetness and Canadian quality, perfect for all your sweetening needs.
Certified Organic by Ecocert Canada