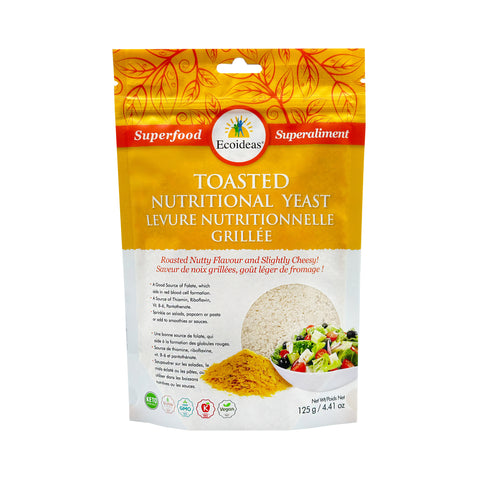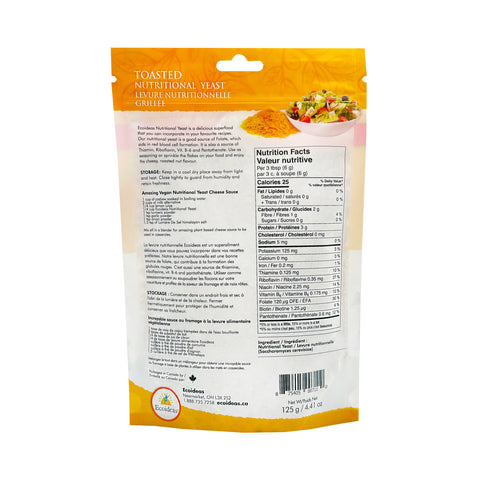 Brand:
Visit the Brand's page by clicking its name.
Ecoideas Toasted Nutritional Yeast (Pouch)
Ecoideas Toasted Nutritional Yeast (Pouch)
Nutrient-Rich Superfood in a Convenient Pouch
Introducing Ecoideas Nutritional Yeast in a convenient pouch, a nutrient-rich superfood that elevates your culinary delights. This wholesome yeast offers the same delightful roasted nutty flavor and slightly cheesy taste as its shaker counterpart, making it an ideal addition to your favorite recipes. Packed with essential nutrients, it remains a good source of Folate, supporting red blood cell formation, as well as providing Thiamin, Riboflavin, Vit B6 and Pantothenate for overall well-being. Whether you sprinkle it on salads, popcorn, pasta, or add it to smoothies or sauces, this nutritional yeast will continue to enhance your dishes with its delectable taste and nourishing benefits.
Nourishing Goodness for Your Meals
Embrace the nourishing goodness of Ecoideas Toasted Nutritional Yeast in a convenient pouch. Each serving of this nutrient-rich superfood is packed with essential vitamins and minerals, offering a wholesome experience for your culinary adventures. With the same 3g of protein and other essential nutrients like potassium and iron, this pouch ensures that you continue to enjoy the benefits of a balanced diet.
Nutrition Facts (Per 3 tbsp / 6g)
Calories: 25 Fat: 0 g Saturated Fat: 0 g Trans Fat: 0 g Carbohydrate: 2 g Fiber: 1 g Sugars: 0 g Protein: 3 g Cholesterol: 0 mg Sodium: 0% Potassium: 125 mg (3% DV) Calcium: 0 mg (0% DV) Iron: 0.2 mg (1% DV) Thiamine: 0.125 mg (10% DV) Riboflavin: 0.35 mg (27% DV) Niacin: 2.25 mg (14% DV) Vitamin B6: 0.175 mg (10% DV) Folate: 120 microg (30% DV) Biotin: 1.25 microg (4% DV) Pantothenate: 0.6 mg (12% DV)
Ecoideas Organic Nutritional Yeast in the pouch is packed with essential nutrients to support your well-being. With only 25 calories per 3 tablespoons (6g) and no fat, saturated fat, or trans fat, this yeast remains an excellent option for those seeking a nutritious and flavorful addition to their meals. One serving provides 2g of carbohydrates, including 1g of fiber and no sugars, promoting a balanced diet. Continue to enjoy the same essential vitamins and minerals, including potassium, iron, Thiamine, Riboflavin, Niacin, Vitamin B6, Folate, Biotin, and Pantothenate, contributing to your overall nutritional needs.
Ingredients and Origin
Ecoideas Toasted Nutritional Yeast in the pouch is sourced with care from Estonia and packaged in Canada by Ecoideas. The key ingredient remains Nutritional Yeast (Saccharomyces cerevisiae), a natural and nourishing addition to your culinary creations. Trust in the origin and purity of this exceptional superfood, now available in a convenient pouch, to enrich your meals with flavor and nourishment.