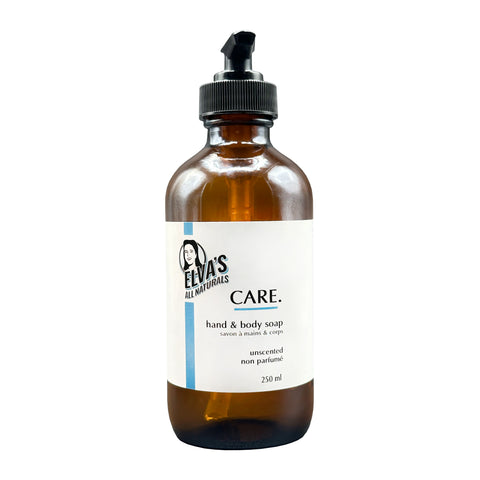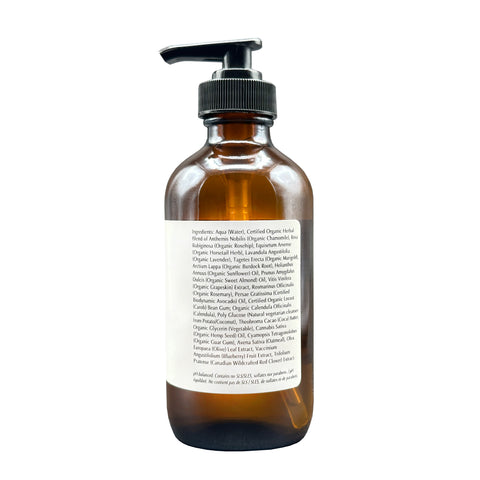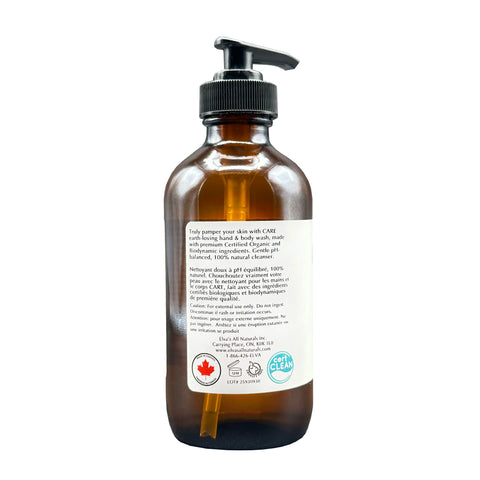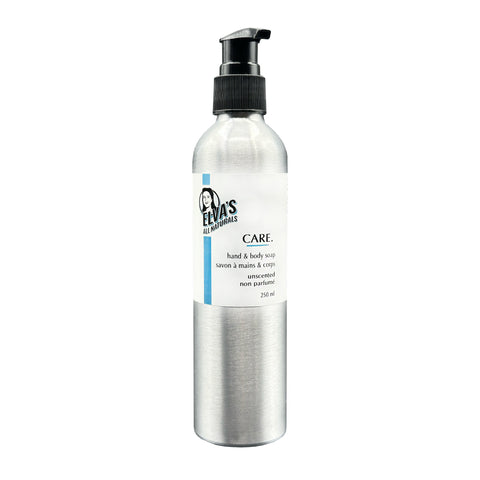 Brand:
Visit the Brand's page by clicking its name.
Elva's All Nautural CARE. Unscented Hand Soap & Body Wash
Gentle, Luxurious Unscented Hand Soap & Body Wash
Description:
This gentle and luxurious hand soap and body wash from Elva's All Natural CARE features a fragrance-free, unscented formula.
Features and Benefits
Enriched with Avocado Oil, Macadamia Oil, Sweet Almond, and Hemp Seed Oil, it provides excellent nourishment for your skin.

The pH-balanced formula preserves your skin's softness and surface biome.

Whether you use it by the sink for handwashing or in the shower, your skin will remain moisturized without feeling stripped or dry. ❤️
Lovingly Hand-Blended in Canada
This exceptional hand soap and body wash is hand-blended in Canada with only the finest Certified Organic and Biodynamic ingredients.
All-Natural and Refillable
100% biodegradable and free from SLS & sulfates, parabens, artificial fragrances, and cruelty-free. CertClean Certified for clean beauty.
Directions for Use
Use at the sink to wash your hands or in the shower to cleanse your body. Apply, lather well, and rinse.

Life hack: You'll know you've washed your hands properly if you can sing through "Happy Birthday" while scrubbing. :)

Life hack#2: Using a facecloth or natural shower puff to spread the product and wash in the shower helps you to use less product. A little goes a long way! :)
Ingredients
Key Ingredients: Aqua (Water), Decyl Glucoside (from Potato/Coconut), Helianthus Annuus (Organic Sunflower) Oil, Prunus Amygdalus Dulcis (Organic Sweet Almond) Oil, and many more.

Vegan and cruelty-free. Contains NO SLS/SLES, sulfates, nor parabens.
Experience the Gentle Cleanliness of Unfragranced Care
Experience the luxurious and gentle cleaning of Elva's All Natural CARE Unscented Hand Soap & Body Wash. Enriched with nourishing oils and crafted with the finest natural ingredients, it's perfect for those who prefer unscented, fragrance-free care.