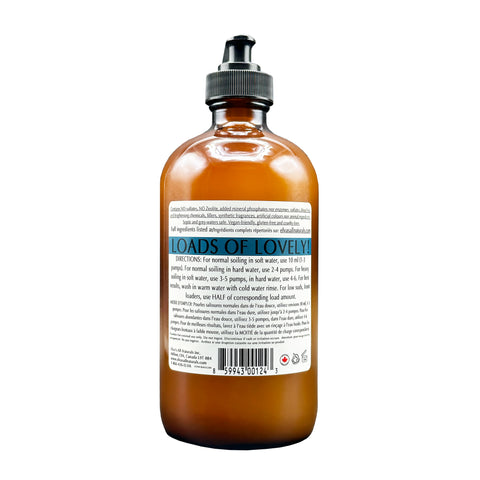 Brand:
Visit the Brand's page by clicking its name.
Elva's All Nautural Lovely Laundry Wash Unscented
Concentrated, High-Efficiency Machine Safe, 100% Botanical, All Natural Detergent, Chemical Free, Septic Safe
If you're searching for an organic laundry detergent that is both cost-effective and environmentally friendly with minimal waste, your search ends here!
LOVELY Laundry Wash is a laundry detergent that offers several key benefits. It is 100% biodegradable, making it environmentally friendly and reducing its impact on ecosystems. The detergent is also safe for use in high-efficiency (HE) machines, ensuring compatibility and optimal performance. Additionally, LOVELY Laundry Wash is septic safe.
What sets LOVELY Laundry Wash apart is its commitment to using only certified organic and biodynamic ingredients, as well as herbs and plant extracts. This focus on natural and sustainable ingredients reflects a dedication to providing a laundry detergent that aligns with organic standards and promotes a healthier, greener lifestyle. 
Ideal for sensitive skin 🌱
Septic and grey-waters safe.

Ingredients:
Aqua/Water, Saponaria Officinalis (Organic Soapwort Herb), Polyglucose, Cocos Nucifera (Coconut) Oil, Olea Europaea (Organic Olive) Oil, Seaweed Extract, Sodium Chloride (Celtic Sea Salt), Organic Lavandula Angustifolia (Lavender Flowers) Extract, Organic Equisetum Arvense (Horsetail Herb) Extract, Organic Hamamelis Virginiana (Witch Hazel) Bark Extract, Organic Cyamopsis Tetragonoloba (Guar) Gum, Citrus Grandis (Grapefruit) Seed Extract, Trifolium Pratense (Canadian Wildcrafted Red Clover) Extract. ~ Vegan Friendly, Gluten-Free and Cruelty-Free.

Contains NO sulfates, NO Zeolite, added mineral phosphates nor enzymes, sulfates, bleaching and brightening chemicals, fillers, synthetic fragrances, artificial colours nor animal ingredients.
Directions:
For normal soiling in soft water, use about 10 ml (2 teaspoons).
For normal soiling in hard water, use about 15 ml (3 tsp).
For heavy soiling in soft water, use about 15 ml (3 tsp), in hard water, use up to 20 ml (4 tsp).
For best results, wash in warm water with cold water rinse.
For low suds, HE Machines, front loaders: use HALF of corresponding load amount.