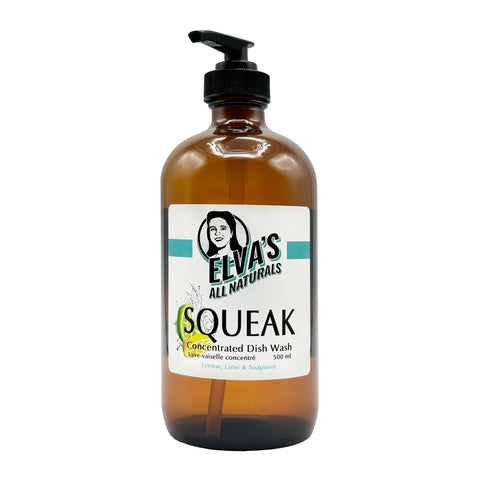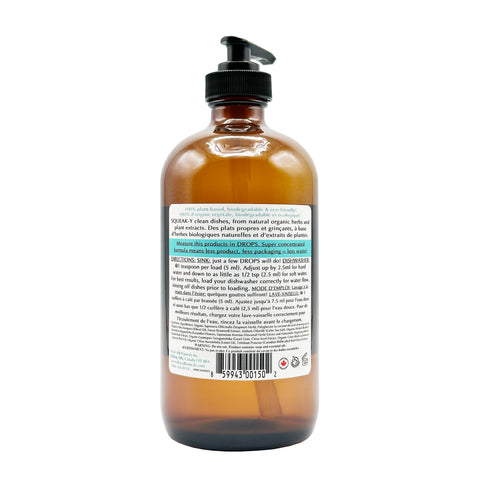 Brand:
Visit the Brand's page by clicking its name.
Elva's All Nautural SQUEAK Concentrated Dish Wash | Soapwort & Lemon Lime
All Natural, Sulfate Free, Chemical Free, Septic Safe, Artificial Fragrance Free Dish Wash
SQUEAK is an exceptional dish soap that is highly concentrated and made entirely from plant-based ingredients. It effortlessly cuts through grease, leaving your dishes squeaky clean and sparkling. Additionally, it is designed to be gentle on your hands, ensuring a pleasant and comfortable dishwashing experience.


100% biodegradable and safe for our natural, urban and rural water systems. 
The formula of SQUEAK includes organic Soapwort herb, which is known as "nature's very own soap," along with natural Lemon and Lime essential oils. These ingredients work synergistically to enhance the cleaning power of the soap while providing a refreshing scent.
It's worth noting that SQUEAK differs from traditional dish soaps in that it does not produce excessive bubbles. While many may associate abundant bubbles with cleanliness, these bubbles are primarily cosmetic and do not necessarily indicate the effectiveness of the soap. The true measure of a soap's cleaning abilities lies in its capacity to reduce the surface tension of water molecules. SQUEAK excels in this aspect, ensuring optimal cleaning performance.
Ingredients:
Aqua(Water), Organic Saponaria Officinalis (Soapwort Herb), Polyglucose (a coconut-derived cleansing agent), Organic Olea Europaea (Olive) Oil, Fucus (Seaweed) Extract, Sodium Chloride (Celtic Sea Salt), Organic Herbal Blend of Lavandula Angustifolia (Lavender) Flowers, Equisetum Arvense (Horsetail Herb) Extract and Hamamelis Virginiana (Witch Hazel) Bark Extract, Organic Cyamopsis Tetragonoloba (Guar) Gum, Citrus Seed Extract, Organic Citrus Medica Limonum (Lemon) Peel Oil, Organic Citrus Aurantifolia (Lime) Oil, Trifolium Pratense (Canadian Wildcrafted Red Clover) Extract.
Septic and grey-waters safe. Vegan & cruelty-free
Just a few drops for hand washing in the sink and

 

maximum 5 ml (1 small tsp.) per dishwasher load
How to use:
Directions for hand-washing in the sink: Soak dishes to loosen residue in a sink of warm to hot water. Apply a drop of SQUEAK directly to a sponge and use to clean your dish. Rinse. This is a super-concentrated and low-sudsing soap, so you just need a little at a time. Applied to a sponge or cloth works very best! 
1 drop will clean a dish. You do not need to add more product if the bubbles dissipate; this is a low-bubbling soap and free of SLS/sulfates. The fish will thank you!
For stubborn pans, soak first in hot water, then apply a few drops of SQUEAK to an eco sponge or cloth and work directly into the pan's surface to clean. Combine with a sprinkle of baking soda for scouring action.
Directions for use in the dishwasher: just 1/2 to 1 teaspoon per load (2.5 to 5 ml). Adjust up to 5ml for hard water and down to as little as 1/2 tsp (2.5 ml) for soft water. Do not use more than 1 tsp at a time or it may cause foaming.  For best results, load your dishwasher correctly for water flow, rinsing off dishes prior to loading (especially melted cheese, egg and coffee residue). Most machines will require a natural rinse aid as SQUEAK does not contain polymers, toxic chemicals and "anti-redepositing" agents.
Squeak not only contributes to greater efficiency but also leads to less packaging waste. The product is designed to prioritize sustainability and minimize its environmental impact.