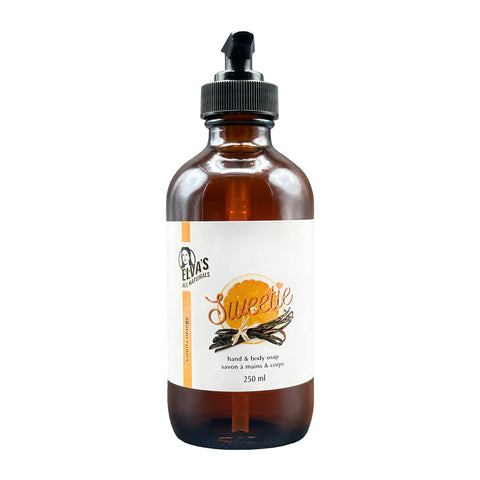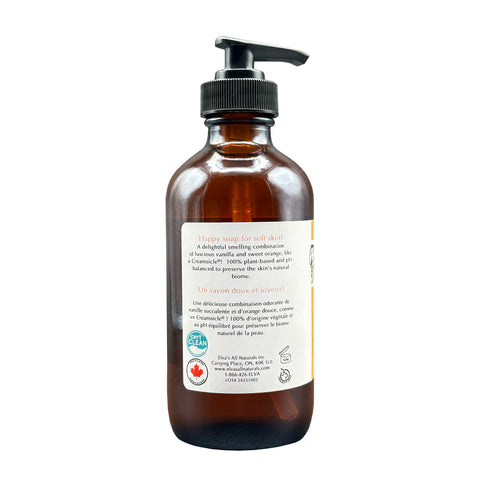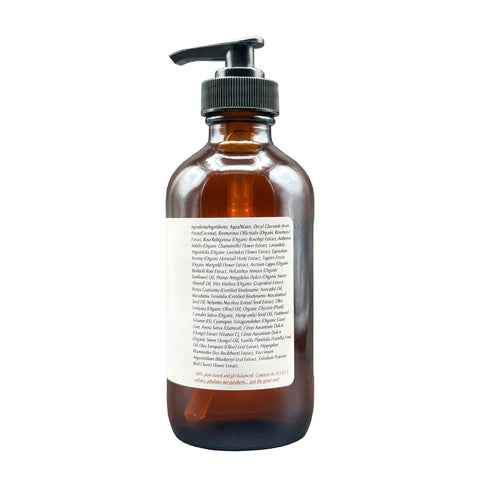 Brand:
Visit the Brand's page by clicking its name.
Elva's All Nautural SWEETIE Vanilla Orange Hand & Body Soap
Delightfully Sweet Vanilla Orange Hand & Body Soap
Description
This delightful hand and body soap from Elva's All Natural SWEETIE combines the luscious scent of vanilla and sweet orange, reminiscent of a Creamsicle®. 🍊
Features and Benefits
Crafted with luxurious oils and skin-nourishing plant extracts, including Avocado Oil, Macadamia Oil, Hemp Seed Oil, Sweet Orange essential oil, and natural Vanilla.

The pH-balanced formula ensures that your skin's softness and surface biome are preserved, making it suitable for use both at the sink for handwashing and in the shower. Your skin stays moisturized and never feels stripped or dry. ❤️
Lovingly Hand-Blended in Canada
This exquisite hand and body soap is hand-blended in Canada with only the finest Certified Organic and Biodynamic ingredients.
All-Natural and Refillable
100% biodegradable and free from SLS & sulfates, parabens, artificial fragrances, and cruelty-free. CertClean Certified for clean beauty.
Directions for Use
Simply apply, lather, and rinse well. A little goes a very long way!
Tips for Hand Washing and Shower
Hand Washing Tip: You'll know you've washed your hands properly if you can sing through "Happy Birthday" while scrubbing. 

Shower Tip: Use a face cloth with a small amount applied to the cloth first to use less product. Work into a rich lather.
Ingredients
Key Ingredients: Aqua/Water, Decyl Glucoside (from Potato/Coconut), Sweet Orange essential oil, natural Vanilla, and many more.

Vegan and cruelty-free. Contains NO SLS/SLES, sulfates, parabens, or artificial fragrances.
Experience the Sweet Delight of Vanilla and Orange
Elevate your daily hand and body washing routine with the delightful scent of Elva's All Natural SWEETIE Vanilla Orange Hand & Body Soap. Enriched with natural fragrances, nourishing oils, and organic ingredients, it adds a touch of luxury to your everyday skincare.