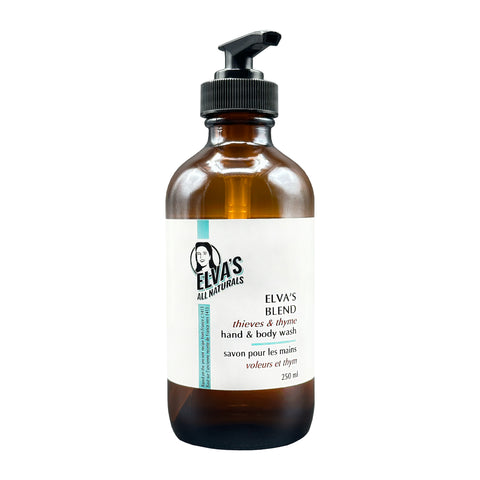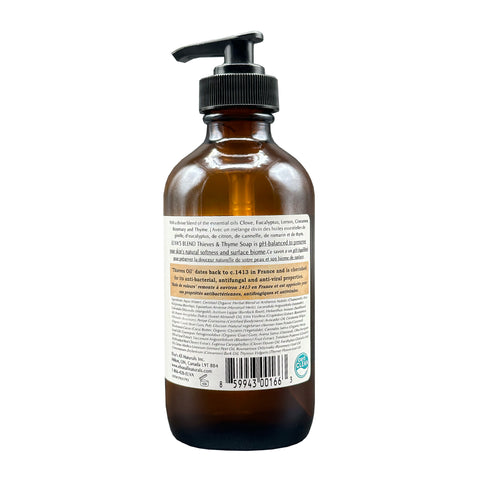 Brand:
Visit the Brand's page by clicking its name.
Elva's All Nautural Thieves & Thyme Hand & Body Soap
All-Natural Thieves & Thyme Hand and Body Soap by Elva's All Natural - Botanical and Refillable
Description
Introducing Elva's All Natural Thieves & Thyme Hand & Body Soap – a 100% botanical and refillable soap created for the conscientious consumer in Manitoba. This pH-balanced, paraben-free, SLS-free, sulfate-free, and chemical-free soap is carefully crafted with natural ingredients, is CertClean Certified, vegan, and gluten-free, making it perfect for your eco-conscious lifestyle.
Unveil the Divine Scent of "Elva's Blend"
We believe this soap smells absolutely divine! "Elva's Blend" Thieves & Thyme Hand Soap is infused with germ-busting essential oils, including Clove, Eucalyptus, Lemon, Cinnamon, Rosemary, and Thyme. These essential oils not only create a delightful aroma but also target harmful bacteria and germs, making your handwashing experience truly exceptional.
Indulge in Aromatic Warmth and Comfort
Customers describe the scent as "delicious," offering warm and comforting notes reminiscent of baking. It's a bit sweet, somewhat spicy, and altogether delightful. 
Unveiling the Secrets of "Thieves Oil"
"Thieves Oil" has a rich history dating back to 1413 and is known for its anti-bacterial, antifungal, and antiviral properties. Elva's Blend takes it a step further with the addition of Thyme, which is also renowned for its strong antiviral properties.
Crafted with Premium Organic and Biodynamic Ingredients
Elva's All Natural Thieves & Thyme Hand & Body Soap is made with premium, certified organic, and biodynamic ingredients, including Avocado and Sweet Almond Oil. This soap is pH-balanced and 100% natural, contributing to your overall well-being and the health of our planet. 🌱
CertClean Certified for Clean Beauty
Rest assured that this product is CertClean certified for clean beauty, and it is free from sulfates, parabens, phthalates, petrochemicals, palm, and toxic preservatives. Plus, it's vegan and cruelty-free.
Directions for Use and Handy Tips
To use, simply apply, lather well for at least 20 seconds, and rinse thoroughly. A little goes a very long way. And here's a handy tip: You'll know you've washed your hands properly if you can sing through "Happy Birthday" while scrubbing. 🙂
Ingredients
Key ingredients include essential oils like Clove, Cinnamon, and Lemon, as well as various organic extracts and botanical elements.

Vegan and cruelty-free. Contains NO SLS/SLES, sulfates, or parabens.
Elevate your hand and body washing experience with Elva's All Natural Thieves & Thyme Hand & Body Soap, lovingly crafted to ensure your skin stays soft and refreshed while making a positive impact on our environment.