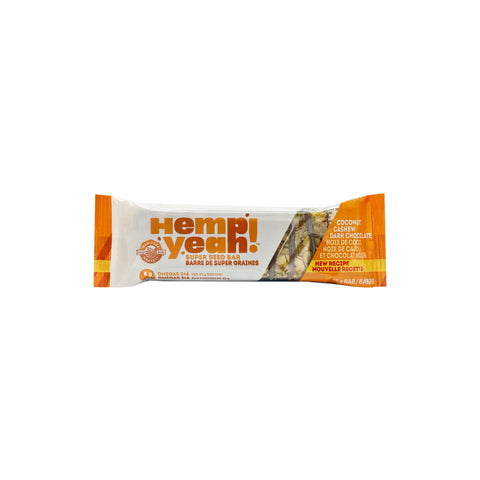 Brand:
Manitoba Harvest
Visit the Brand's page by clicking its name.
Hemp Yeah! Coconut Cashew Dark Chocolate Super Seed Bars
Hemp Yeah! Coconut Cashew Dark Chocolate Super Seed Bars - Unleash the Power of Super Seeds! 


Nutrient-Packed Super Seed Bars for a Healthier You

Discover the Freshness and Quality of Hemp Yeah! Super Seed Bars

With Hemp Yeah!, we are on a mission to deliver better nutrition through our super seed bars, crafted from the freshest and highest-quality hemp seeds. These powerful super seeds offer a wide array of benefits, and we're excited to share them with you.

In each 45g serving of our Coconut Cashew Dark Chocolate Super Seed Bars, you'll find a remarkable 6 grams of Omega-3 and Omega-6 essential fatty acids. These bars are designed to not only satisfy your taste buds but also nourish your body with wholesome ingredients.

Wholesome and Nutrient-Rich

Elevate Your Nutrition with Hemp Yeah! Super Seed Bars

Our super seed bars are more than just a tasty snack; they're a nutritious choice. Here's what you can expect from each bar:

Gluten-Free: We understand the importance of catering to dietary needs. That's why our bars are gluten-free, ensuring that they can be enjoyed by a wide range of individuals.
Non-GMO: We are committed to providing products that are non-GMO, so you can indulge in our bars with confidence.
Kosher: For those who adhere to kosher dietary guidelines, our bars meet those standards, adding to their inclusivity.

Nutritional Breakdown

Hemp Yeah! Super Seed Bars - A Nutrient Powerhouse

Here's a quick glance at the nutritional content of each Hemp Yeah! Dark Chocolate Almond Sea Salt Super Seed Bar (per 45g):

Calories: 230
Fat: 17g (23% Daily Value)
Saturated Fat: 6g (30%)
Trans Fat: 0g
Polyunsaturated Fat: 6g
Omega-6: 5g
Omega-3: 1g
Monounsaturated Fat: 4g
Carbohydrate: 16g
Dietary Fiber: 5g (18%)
Sugars: 7g (7%)
Protein: 6g
Cholesterol: 0mg
Sodium: 40mg (2% Daily Value)
Potassium: 250mg (5%)
Calcium: 20mg (2%)
Iron: 2.25mg (13%)
Thiamine: 0.25mg (21%)
Riboflavin: 0.075mg (6%)
Niacin: 2.5mg (16%)
Vitamin B6: 0.225mg (13%)
Folate: 35ug (9%)
Phosphorus: 250mg (20%)
Magnesium: 110mg (26%)
Zinc: 1.75mg (16% Daily Value)
Selenium: 6ug (11%)
Copper: 0.44mg (49%)
Manganese: 1.152mg (50%)

As a guideline, 5% or less is considered a little, while 15% or more is considered a significant source of the daily value.

Quality Ingredients

The Excellence of Ingredients in Hemp Yeah! Super Seed Bars
With Hemp Yeah!, we take pride in the quality of our ingredients. Each Coconut Cashew Dark Chocolate Super Seed Bar is crafted with care and includes a blend of:

Ingredients: Shelled hemp seeds, Toasted coconut, Sunflower seeds, Sugars (agave syrup, fancy molasses), Cashews, Oligofructose, Dark chocolate (sugar, chocolate liquor, cocoa butter, sunflower lecithin, vanilla extract), Flaxseeds, Pumpkin seeds, Crisp brown rice, Glycerin, Sunflower oil blend (sunflower oil, tocopherols, rosemary extract), Almonds, Cocoa butter, Sea salt, Agar.
Contains: Cashews, Almonds.
May contain: Walnuts, Peanuts, Pecans, Brazil nuts, Soy, Eggs, Milk, Sesame.
.