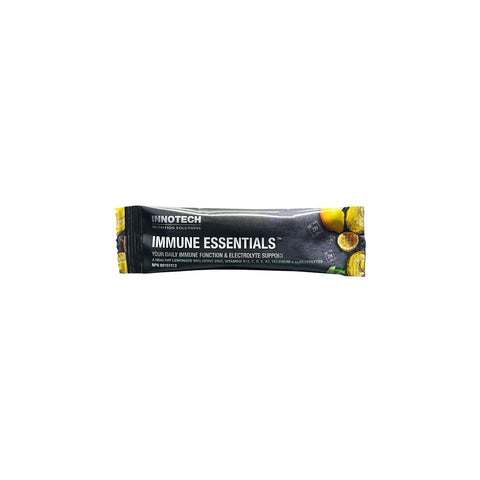 Brand:
Visit the Brand's page by clicking its name.
Innotech IMMUNE ESSENTIALS LEMONADE Sachet (10g)
Innotech Lemonade Immune Essentials - Your Tasty Defense
Reinforce Your Natural Immune Function with a Refreshing Twist
Innotech Nutrition's Lemonade Immune Essentials is a delicious way to bolster your body's innate immune system. This incredible concoction features a blend of Zinc, Vitamin D3, Vitamin C, Vitamin K2, Vitamin B12, Vitamin E, Magnesium, Potassium, Selenium, and fermented amino acids. This low-calorie, vegan-friendly formula is free from GMOs, dairy, and common allergens like sugar, gluten, MSG, artificial sweeteners, and synthetic flavors and colors. Loaded with 2.5 grams of amino acids, 10 essential vitamins and minerals, including your daily electrolyte needs, and sweetened with the natural, low-calorie goodness of stevia leaf. One jar prepares a whopping 18 liters of healthy, sugar-free lemonade for you to savor.
Key Benefits
Recommended Purpose:

Aids in the maintenance and support of immune function.
Supports collagen formation for the health of your bones, cartilage, teeth, and gums.
Promotes the well-being of your hair, skin, and nails.
Contributes to proper muscle function and helps maintain normal electrolyte balance and hydration.
Supports healthy metabolism and helps build robust bones and teeth.
Acts as a source of antioxidants that protect against oxidative stress.
Assists in preventing deficiencies of vitamin D and zinc.
Usage Directions
Recommended Dose: Enjoy one scoop twice a day (1 scoop equals 10 g). Mix 5-10 grams with 300-600 ml of water. Ensure you consume it a few hours before or after any other medications or natural health products. To prepare a quick and refreshing lemonade, mix 3 scoops into 1.8 liters of water and store it in the fridge. Additionally, relish it as your daily hot beverage. It's essential to stay adequately hydrated before, during, and after exercise.
Store this product in a cool, dry place.
Ingredients
For every 10 g (1 scoop) of this lemonade:
Nutritional Content (per 10g): Calories 17, Carbohydrates 2g, Fat 0g, Sugar 0g, Sodium 60mg.
Here's a glimpse of the key ingredients and their amounts:
L-Lysine HCl: 1200 mg
Vitamin C (Ascorbic Acid, Magnesium Ascorbate): 1000 mg
L-Proline: 250 mg
L-Glutamine: 750 mg
L-Threonine: 150 mg
Potassium (Potassium Gluconate): 41.4 mg
Magnesium (Magnesium Bisglycinate/Ascorbate): 55 mg
Calcium (Calcium Citrate, Tetrahydrate): 25.2 mg
Zinc (Zinc Ascorbate): 15 mg
Vitamin B12 (Methylcobalamin): 300 mcg
Selenium (Selenomethionine): 50 mcg
Vitamin K2 (Vitamin K2 MK-7): 40 mcg
Vitamin D (Cholecalciferol): 12.5 mcg or 500 IU
Vitamin E (d-alpha tocopheryl acetate): 100 IU
Non-Medicinal Ingredients include Lemon Juice Powder, Fructooligosaccharides (Fiber), Solnul™ (Resistant Potato Starch), Sea Salt (60 mg Sodium), Citric Acid, Natural Lemon Flavor, Beta-Carotene, Stevia Rebaudiana Leaf Extract, Tapioca, Silica, and Maltodextrin (Non-GMO, Less than 1%).
Safety and Storage
Consult a healthcare practitioner before using this product for more than 3 months.
Prior to use, consult a healthcare practitioner if you are pregnant, breastfeeding, have a history of non-melanoma skin cancer, or are taking blood thinners.
Quality Assurance
Innotech Nutrition ensures product quality and safety by operating under a Site License granted by Health Canada's Natural Health Products Directorate (NHPD) and adhering to Good Manufacturing Practices. Additionally, all Innotech Nutrition products are third-party tested to verify safety and label claims.