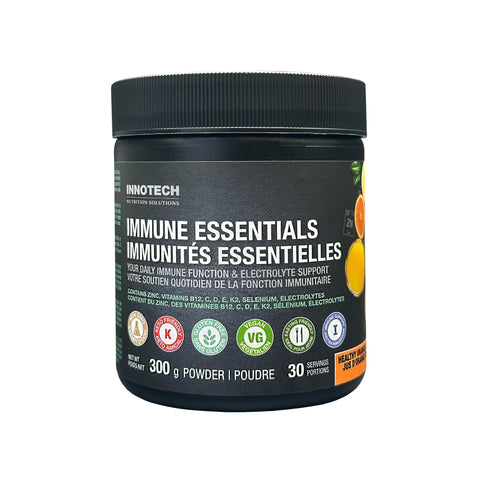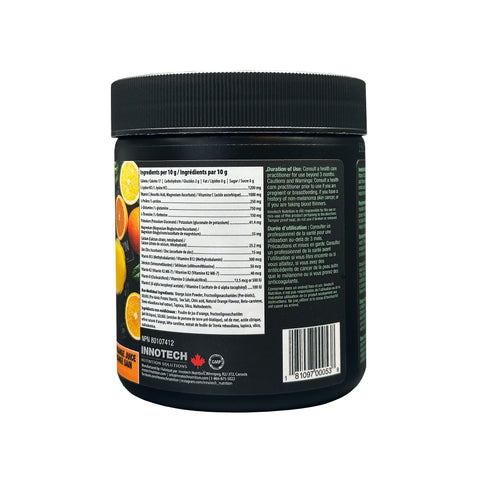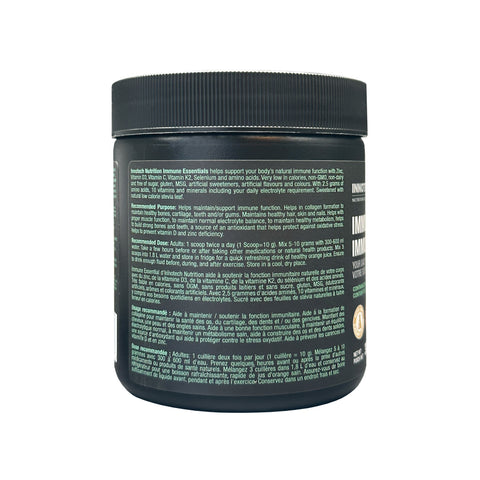 Brand:
Visit the Brand's page by clicking its name.
Innotech IMMUNE ESSENTIALS ORANGE – ZINC & VITAMIN D
Innotech IMMUNE ESSENTIALS ORANGE – Strengthen Your Immune Health
Elevate Your Immune Function Naturally
Innotech Nutrition's IMMUNE ESSENTIALS ORANGE is a powerful blend of essential nutrients specially crafted to reinforce your body's innate immune function. This remarkable formulation features Zinc, Vitamin D3, Vitamin C, Vitamin K2, Vitamin B12, Vitamin E, Magnesium, Potassium, Selenium, and fermented amino acids. This immune-boosting powerhouse is incredibly low in calories, suitable for vegans, non-GMO, dairy-free, and entirely devoid of sugar, gluten, MSG, artificial sweeteners, as well as artificial flavors and colors. With an impressive 2.5 grams of amino acids, alongside 10 vital vitamins and minerals, it meets your daily electrolyte needs. For natural sweetness, we've included low-calorie stevia leaf. Each jar prepares 18 liters of healthy, sugar-free orange juice.
Explore the Benefits
Recommended Purpose:

Maintains and supports immune function.
Facilitates collagen formation for the upkeep of healthy bones, cartilage, teeth, and gums.
Nurtures the well-being of your hair, skin, and nails.
Supports proper muscle function.
Balances normal electrolyte levels and sustains hydration.
Maintains a healthy metabolism.
Contributes to the development of robust bones and teeth.
Acts as an antioxidant, providing defense against oxidative stress.
Helps prevent vitamin D and zinc deficiencies.
Usage Directions
Recommended Dose: Take 1 scoop twice a day (1 Scoop=10 g).
Mix 5-10 grams with 300-600 ml of water.
Consume a few hours before or after taking other medications or natural health products.
For a quick, refreshing orange drink, mix 3 scoops into 1.8 L of water and refrigerate.
Ensure you maintain proper fluid intake before, during, and after physical exercise.
Store in a cool, dry location.
Ingredients Per 10 g (1 scoop)
Calories: 17
Carbohydrate: 2 g
Fat: 0 g
Sugar: 0 g
Sodium: 60 mg
 Key Ingredients
L-Lysine HCl: 1200 mg
Vitamin C (Ascorbic Acid, Magnesium Ascorbate): 1000 mg
L-Proline: 250 mg
L-Glutamine: 750 mg
L-Threonine: 150 mg
Potassium (Potassium Gluconate): 41.4 mg
Magnesium (Magnesium Bisglycinate/Ascorbate): 55 mg
Calcium (Calcium Citrate, Tetrahydrate): 25.2 mg
Zinc (Zinc Ascorbate): 15 mg
Vitamin B12 (Methylcobalamin): 300 mcg
Selenium (Selenomethionine): 50 mcg
Vitamin K2 (Vitamin K2 MK-7): 40 mcg
Vitamin D (Cholecalciferol): 12.5 mcg or 500 IU
Vitamin E (d-alpha tocopheryl acetate): 100 IU
Non-Medicinal Ingredients: Orange and Lemon Juice Powder, Fructooligosaccharides (Fibre), Solnul™ (Resistant Potato Starch), Sea Salt (60 mg Sodium), Citric acid, Natural Orange and Lemon Flavour, Beta-carotene, Stevia rebaudiana leaf extract, Tapioca, Silica, Maltodextrin (Non-GMO, Less than 1%).
Duration of Use
Consult a healthcare practitioner for use extending beyond 3 months.
Cautions and Warnings
Consult a healthcare practitioner prior to use if you are pregnant or breastfeeding.
If you have a history of non-melanoma skin cancer.
If you are taking blood thinners.
Important Note
Innotech Nutrition is not accountable for product use or misuse concerning the provided directions. Please ensure the tamper-proof seal remains intact.