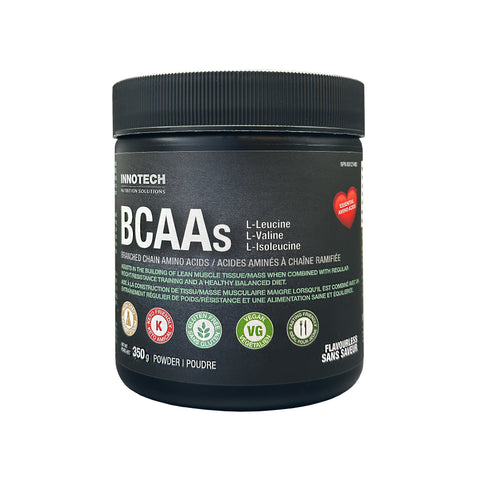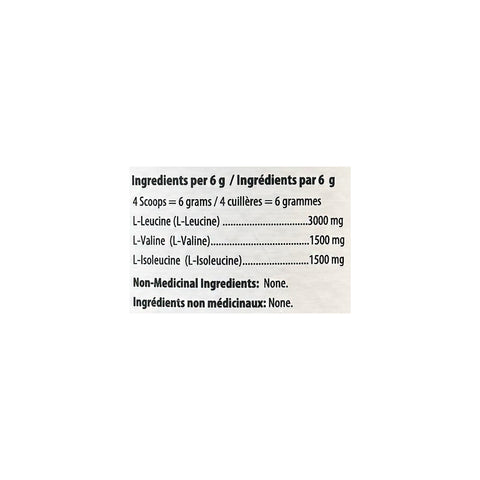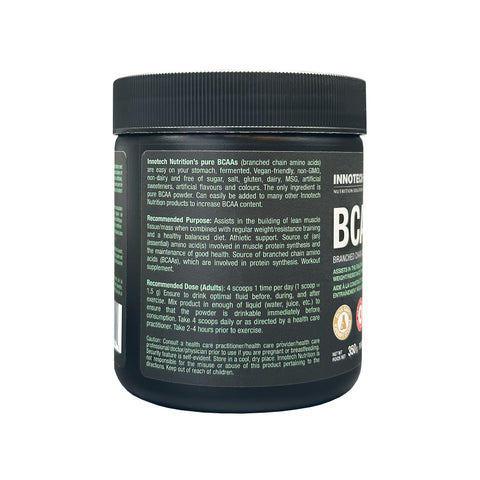 Brand:
Visit the Brand's page by clicking its name.
Innotech BCAAS 2:1:1 (L-LEUCINE, L-VALINE, L-ISOLEUCINE)
Innotech BCAAS 2:1:1 - Your Essential Workout Companion
Elevate Your Athletic Performance with Pure BCAAs
Innotech Nutrition presents a pure and potent source of Branched Chain Amino Acids (BCAAs) that's gentle on your stomach. These BCAAs are fermented, vegan-friendly, non-GMO, and free from sugar, salt, gluten, dairy, MSG, artificial sweeteners, as well as artificial flavors and colors. This product contains one and only one ingredient: pure BCAA powder. It can be conveniently added to various other Innotech Nutrition health drink mixes, such as CardioFlex Q10, Fasting Days, Immune Essentials, Fermented Organic Greens, and Fermented Plant Protein products, to boost your BCAA intake.
Key Benefits
Recommended Purpose:

Aids in the development of lean muscle tissue/mass when combined with regular weight/resistance training and a balanced, healthy diet.
Provides athletic support.
Acts as a source of essential amino acids, contributing to muscle protein synthesis and the maintenance of overall health.
Contains branched-chain amino acids (BCAAs), which play a role in protein synthesis.
An excellent workout supplement.
Usage Directions
Recommended Dose (Adults): Take 4 scoops once a day (1 scoop equals 1.5 g). Be sure to maintain proper fluid intake before, during, and after your workout. Mix the product with an adequate amount of liquid (water, juice, etc.) to ensure the powder is easily consumable right before you use it. Consume 4 scoops daily or as directed by a healthcare practitioner. For the best results, take it 2-4 hours before your exercise regimen.
Safety Precautions
Consult a healthcare practitioner, health care provider, health care professional, doctor, or physician before use, especially if you are pregnant or breastfeeding.
The security feature is self-evident.
Store the product in a cool, dry place.
Innotech Nutrition disclaims responsibility for any misuse or abuse of this product regarding the provided directions.
Keep out of the reach of children.
Quality Assurance
Innotech Nutrition operates under a Site License granted by Health Canada's Natural Health Products Directorate (NHPD) and adheres to Good Manufacturing Practices. These practices ensure a comprehensive approach to quality control, safety, and risk management. They also aid in recognizing potential risks, allowing for a proactive response rather than a reactive one. All products undergo third-party testing to guarantee their safety and alignment with label claims.