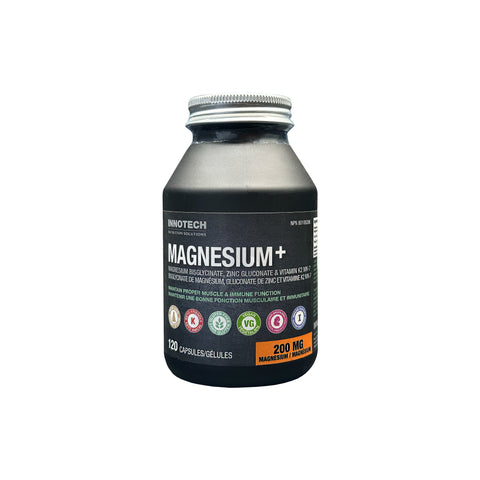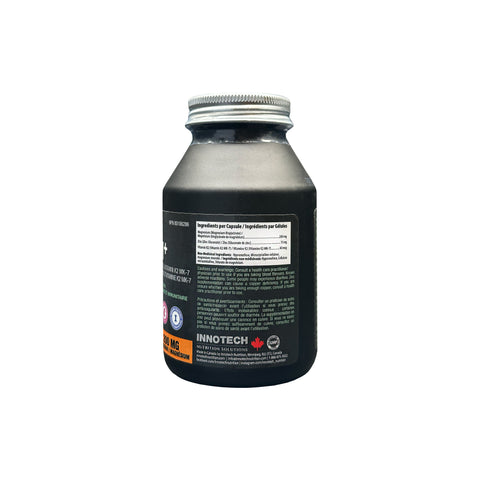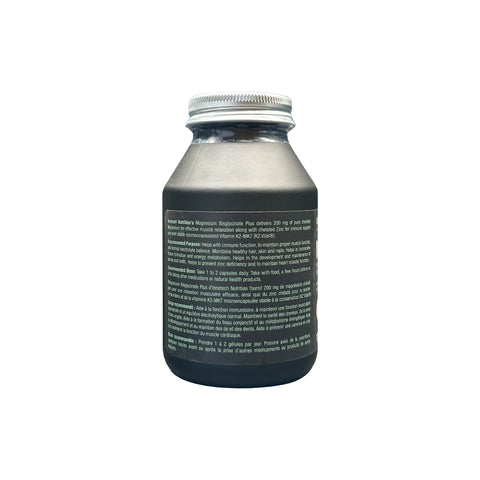 Brand:
Visit the Brand's page by clicking its name.
Innotech MAGNESIUM PLUS – MAGNESIUM BISGLYCINATE, ZINC GLUCONATE & VITAMIN K2 MK-7
Innotech MAGNESIUM PLUS - A Triple-Action Health Supplement
Optimal Health with Magnesium Bisglycinate, Zinc, and Vitamin K2 MK-7
Complete Nutritional Support
Innotech Nutrition presents Magnesium Bisglycinate Plus, a unique supplement combining 200 mg of pure chelated magnesium for effective muscle relaxation, chelated zinc for immune support, and micro-encapsulated Vitamin K2-MK7 (K2 Vital®) for overall health.
Unlock Your Health Potential
Recommended Purpose:

Supports immune function.
Maintains proper muscle function and normal electrolyte balance.
Promotes healthy hair, skin, and nails.
Aids in connective tissue formation and energy metabolism.
Supports the development and maintenance of bones and teeth.
Helps prevent magnesium and zinc deficiencies.
Maintains heart muscle function.
Usage Instructions:
Take 1 to 2 capsules daily.
Consume with food, ideally a few hours before or after other medications or natural health products.
Ingredients per Capsule:
Magnesium Bisglycinate: 200 mg
Zinc (Zinc Gluconate): 15 mg
Vitamin K2 (K2 MK-7): 40 mcg
Non-Medicinal Ingredients: Hypromellose, magnesium stearate.
The Power of Magnesium:
Magnesium is a vital macro mineral involved in over 300 physiological processes. It plays a crucial role in proper muscle function and relaxation. Research suggests that magnesium supports various aspects of health, including bone health, quality sleep, nerve function, energy production, cardiovascular well-being, a healthy immune system, energy metabolism, and muscle strength performance.
Innotech Nutrition's chelated magnesium is bound to amino acids, ensuring it passes through the digestive tract intact, up to the point of optimal absorption. Chelated magnesium has fewer interactions with other nutrients and is gentler on the gastrointestinal tract.
The Strength of Zinc:
Zinc is an essential trace mineral required by more than 300 enzymes in the body. It aids in repairing tissues, defending against immune threats, protein synthesis, cell reproduction, and maintaining fertility. Zinc stores can be depleted during strenuous exercise, and low levels in muscles can lead to reduced endurance capacity. Zinc added to beverages and supplements can help support various aspects of health, including vision, growth, sports recovery, electrolyte balance, immune function, and inflammation response.
Cautions and Warnings:
Consult a healthcare practitioner or physician before use if you are taking blood thinners.
Enhance your overall health with Innotech MAGNESIUM PLUS, a triple-action supplement that combines the power of magnesium bisglycinate, zinc, and vitamin K2 MK-7. It's your key to balanced well-being and robust health support.