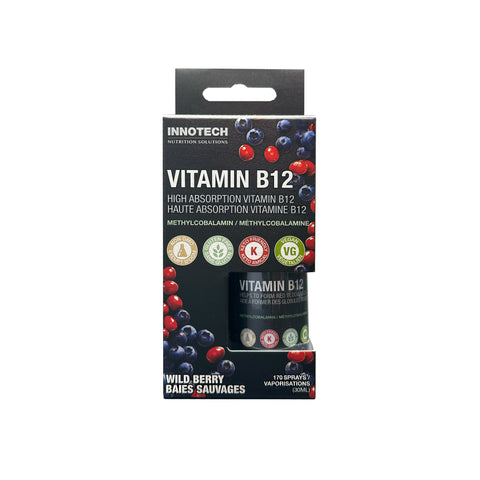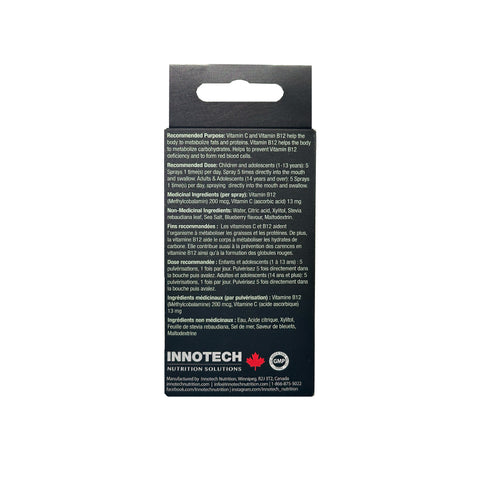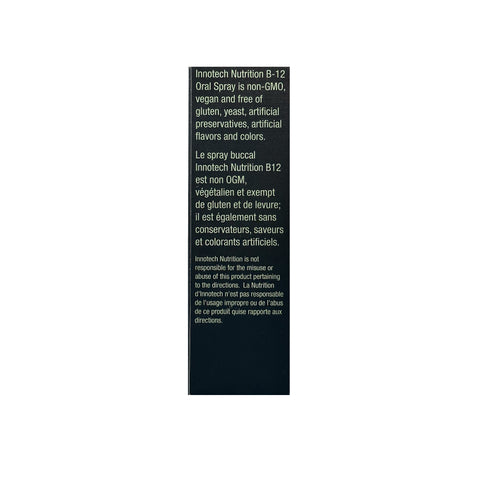 Brand:
Visit the Brand's page by clicking its name.
Innotech VITAMIN B12 ORAL SPRAY 30 ML - WILD BERRY
Innotech Vitamin B12 Oral Spray - Wild Berry Flavor
Elevate Your B12 Intake with the Power of Methylcobalamin
Innotech Nutrition's Vitamin B12 Liquid Spray is a vegan-friendly supplement designed to deliver essential B12 in a convenient spray form. It's meticulously crafted, free from corn, wheat, yeast, milk derivatives, artificial preservatives, artificial flavors, and synthetic colors. Each dose packs a potent 1000 mcg of B12 derived from Methylcobalamin, a highly bioavailable form of this crucial vitamin.
Key Benefits
Recommended Use or Purpose:

Supports the maintenance of overall good health.
Vitamin C and Vitamin B12 play essential roles in metabolizing fats, proteins, and carbohydrates.
Helps prevent Vitamin B12 deficiency.
Promotes the formation of red blood cells.
Aids in the development and maintenance of bones, cartilage, teeth, and gums.
Facilitates connective tissue formation and wound healing.
Serves as an antioxidant to maintain good health.
Usage Directions
Recommended Dose (Adults): As a dietary supplement, take 5 pumps orally per day. Spray the solution into your mouth under the tongue, hold for 20 seconds to allow absorption, and then swallow.
What's Inside?
Each 5 Oral Sprays (880 mcl) Contain:

Medicinal Ingredients: Vitamin B12 (Methylcobalamin) 1000 mcg, Vitamin C (ascorbic acid) 65 mg
Non-Medicinal Ingredients: Purified Water, Xylitol, Citric Acid, Stevia, Natural Flavour (with non-GMO maltodextrin carrier), and Sea Salt.
Before use, shake well, and press the actuator down 3 or more times to prime the pump. This advanced delivery system provides a pre-metered, non-aerosol spray that supplies a highly absorbable source of B-12. The design aims to maximize absorption directly into your circulatory system.
Storage
Store this product in a cool, dry place.
Quality Assurance
Innotech Nutrition upholds the highest quality standards in product formulation, ensuring a reliable and effective dietary supplement.