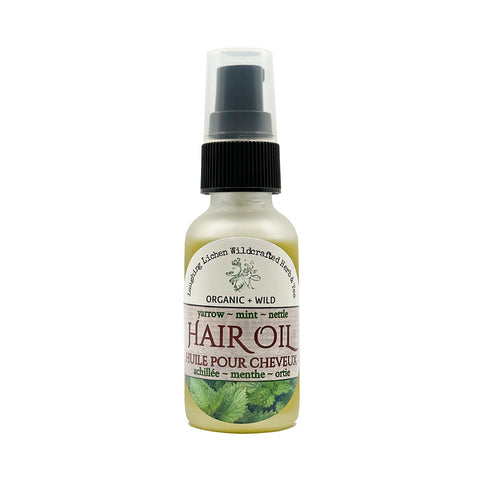 Brand:
Visit the Brand's page by clicking its name.
Laughing Boreal Hair Oil
100% Organic and Wild
Stimulates growth and thickness
Soothes dry, itchy scalp (dandruff)
revives dull hair
Nourishing organic hair oil infused with wild botanicals sounds like a luxurious treat for the hair. Let's explore the ingredients and their potential benefits.
Argan oil, derived from the Ricinus communis plant, is known for its moisturizing and nourishing properties. It can help hydrate dry locs, revive dull hair, and promote a healthier appearance.
Jojoba oil, obtained from the Simmondsia chinensis plant, is a lightweight and non-greasy oil that closely resembles the natural oils produced by the scalp. It can help balance oil production, moisturize the hair and scalp, and improve hair texture.
Nettle, known scientifically as Urtica dioica, is a wild herb that is often used in hair care products. It is believed to stimulate hair growth and thickness, making it a valuable addition to the hair oil.
Mint, specifically Mentha canadensis, provides a refreshing and invigorating element to the hair oil. It can help soothe the scalp, relieve itchiness, and provide a pleasant aroma.
Horsetail, scientifically known as Equisetum arvense, is a herb that is rich in silica. Silica is believed to strengthen the hair, improve its texture, and promote overall hair health.
Yarrow, or Achillea millefolium, is another herb included in the hair oil. It is known for its anti-inflammatory properties and can help soothe a dry, itchy scalp or dandruff.
Tamarack oil, derived from the Larix laricina tree, adds a unique earthy scent and potentially offers additional benefits for the hair. Tamarack is rich in antioxidants, which can help protect the hair from environmental damage.
Vitamin E, indicated as Tocopherol, is a potent antioxidant that can help nourish and protect the hair from damage.
The fact that the ingredients are 100% organic or wild further emphasizes their natural sourcing and potential benefits.
To use the hair oil, it's recommended to apply a small amount to the palms of your hands and distribute it evenly through damp or dry hair. Gently massage it into the scalp for added benefits.
 85 ml
Ingredients
*
Ricinus communis
(
argan
) oil, *
Simmondsia chinensis
(
jojoba
) oil, **
Urtica dioica
(
nettle
), **
Mentha canadensis
(
mint
) herb+oil, **
Equisetum arvense 
(
horsetail
), **
Achillea millefolium
(
yarrow
) herb+oil, **
Larix laricina
(
tamarack
) oil, *
Tocopherol
(
vitamin E
)
*indicates organic,  ** indicates wild