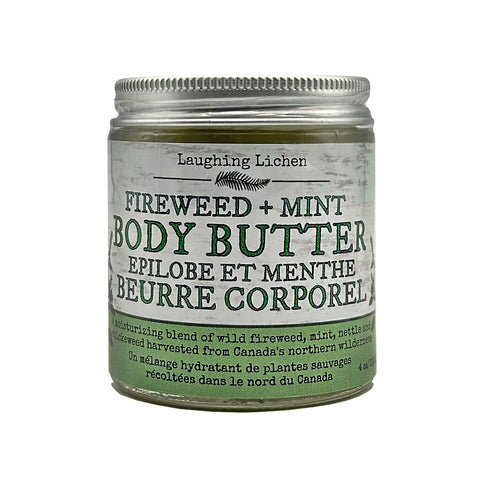 Brand:
Visit the Brand's page by clicking its name.
Laughing Fireweed + Mint Organic Body Butter
Handcrafted organic body butter sounds like a luxurious and nourishing skincare product. With its rich blend of organic oils and wildcrafted herbs, it offers multiple benefits for the skin.
Moisturizing properties are crucial for maintaining hydrated and healthy skin. Organic oils used in the body butter can provide deep moisturization, helping to prevent dryness and maintain skin elasticity. This can leave your skin feeling plump, smooth, and well-nourished.
The anti-inflammatory properties of the body butter can be particularly beneficial for individuals with sensitive or irritated skin. It may help soothe inflammation promoting a calmer complexion.
The use of organic and wildcrafted ingredients ensures that the body butter is made from high-quality, natural sources. This can be especially appealing to those who prefer products that are free from synthetic chemicals and additives.
The 4oz / 118 ml glass jar packaging is not only environmentally friendly but also helps preserve the freshness and integrity of the body butter.
The wildcrafted herbs, including fireweed, mint, nettle, and chickweed, harvested from Canada's Northern wilderness, add a unique touch to the body butter. These herbs may contribute additional beneficial properties, such as soothing effects, antioxidant content, and potential skin-nourishing qualities.
While the body butter can be suitable for all skin types, it may be especially beneficial for those with dry skin due to its excellent moisturizing properties.
Indulge in the hydrating and nourishing benefits of your organic body butter, and enjoy the natural goodness it provides for your skin.
Ingredients :
*
Shea butter
, *
Rubus idaeus
(cold processed
raspberry seed
) oil,  *
Simmondsia chinensis
 (
jojoba
) , *
prunis dulcis
(
sweet almond)

 
oil, *
curcupeda pepo L
. (
pumpkin seed
) oil, **
Chamaenerion angustifolium
(
fireweed
), **
Mentha arvenis
(
mint
+ oil), **
Urtica dioica
(
nettle
), **
Stellaria media
(
chickweed
),
tocophero
l (
vitamin E
), *
Maranta arundinacea
root powder (gluten free
arrowroot starch
)
*indicates organic   **indicates wild