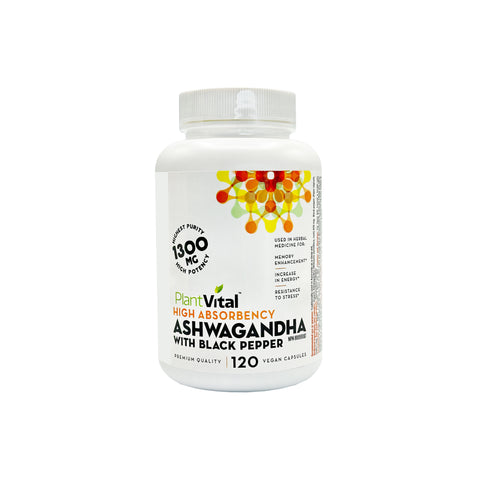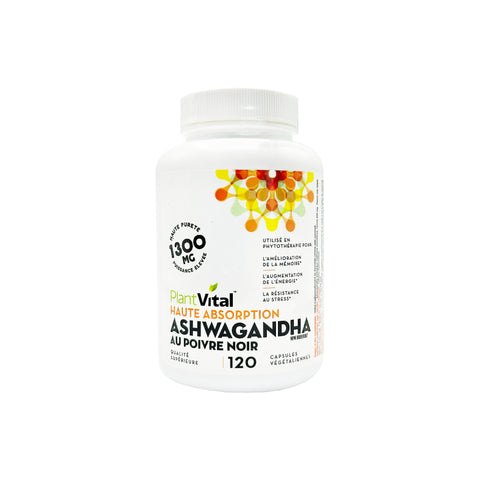 Brand:
Visit the Brand's page by clicking its name.
PlantVital ORGANIC ASHWAGANDHA W BLACK PEPPER
Elevate Your Well-Being with Organic Ashwagandha and Black Pepper
Unleash the Power of Adaptogens
PlantVital's ORGANIC ASHWAGANDHA W BLACK PEPPER is a natural wellness supplement designed to empower your health and support your well-being. Ashwagandha, an ancient adaptogen, and organic black pepper work together to deliver a holistic approach to health.
Key Benefits
Powerful Adaptogen: Enhance brain function and optimize your cognitive abilities, unlocking your mental potential.

Manage Stress: Find relief from life's daily pressures and maintain a balanced sense of well-being.

Supports Lowering Blood Sugar and Cortisol Levels: Help regulate blood sugar and cortisol levels, contributing to your overall health.

Can Help Fight Symptoms of Anxiety and Depression: Discover a natural remedy for managing symptoms of anxiety and depression, nurturing your emotional wellness.
Product Details
Organic & Non-GMO Certified: Our product adheres to the highest quality standards, ensuring it's organic and free from genetically modified organisms.

Contains Organic Black Pepper: Black pepper is added to boost absorption, potentially increasing it by up to 500%, providing superior results compared to most similar supplements.

Powerful 1300mg per Dose Formulation: Our potent formulation delivers 1300mg per dose, which is more robust and effective than many other ashwagandha supplements, including oils and tinctures.

Vegan and Additive, Colour, and Filler Free: We are committed to delivering a clean and vegan product, free from additives, artificial colors, and fillers.

Patented Molecular Distilled Process: Our ashwagandha goes through a patented molecular distilled process, guaranteeing the purest and highest-quality product.
Why Choose PlantVital Ashwagandha Root Powder W Black Pepper 1300MG?
Zero Heavy Metals: Our Certified Ashwagandha Organic Capsules are tested to ensure they contain zero heavy metals.

Black Pepper for Enhanced Absorption: The addition of organic black pepper increases absorption by up to 500%, making our supplement superior in delivering its anti-stress, adrenal, and anti-anxiety benefits.

Potent 1300mg Formulation: With 1300mg per dose, our formulation is more potent than many alternatives, including ashwagandha oil and tincture.
Superior Immune Boost, Hormonal Balance & Mood Support
Our ashwagandha capsules, sourced from medicinal-grade organic ashwagandha root, provide the optimal concentration of powerful anti-inflammatory withanolides. These stimulate adaptogenic activity, optimizing adrenal health, supporting thyroid function, and helping you manage stress for enhanced well-being.
Purchase with Confidence
As a small Canadian family business dedicated to purity and quality, we prioritize making the cleanest, additive-free health-enhancing products on the market. We are confident in our product's quality, and your satisfaction is 100% guaranteed. NPN 80093087.
Ingredients
Active Ingredients: Organic Ashwagandha (Withania somnifera) (root), Organic Black Pepper (Piper nigrum) (fruit).

Inactive Ingredients: Pullulan capsules (vegan).
How to Use
For optimal results, take 2 capsules daily. To maximize effectiveness, take them 20-30 minutes before a meal or as directed by your healthcare professional. As with any dietary supplement, it's essential to avoid exceeding the recommended dose. Pregnant or nursing mothers, children under the age of 18, and individuals with known medical conditions should consult a physician before using this or any dietary supplement.
Elevate Your Well-Being with PlantVital
Unlock the holistic wellness benefits of ashwagandha and black pepper. PlantVital ORGANIC ASHWAGANDHA W BLACK PEPPER is your key to optimizing your well-being and enhancing your health naturally. Embrace the power of adaptogens for a better you.