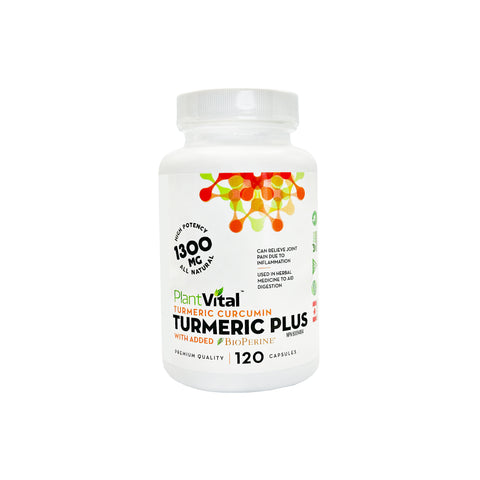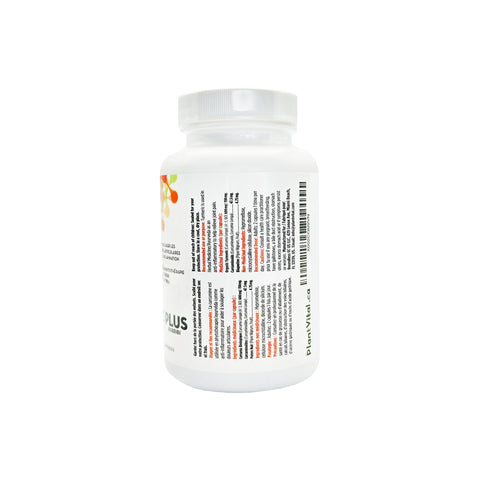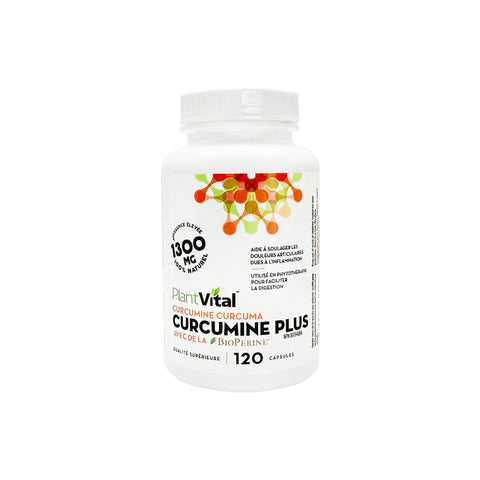 Brand:
Visit the Brand's page by clicking its name.
PlantVital ORGANIC TURMERIC CURCUMIN W BIOPERINE


PlantVital ORGANIC TURMERIC CURCUMIN - Nature's Wellness Powerhouse
Unlock the Benefits of Turmeric and Curcumin
Unleash the wellness potential of turmeric with PlantVital ORGANIC TURMERIC CURCUMIN W BIOPERINE. Packed with an impressive array of benefits, this high-potency supplement is designed to promote your overall well-being.
Key Benefits
Reduce Stiffness, Arthritic Pain & Inflammation: Turmeric is renowned for its natural anti-inflammatory properties, making it an ideal companion for soothing stiffness and arthritic discomfort.

Supports Neutralizing Free Radicals: As a powerful antioxidant, turmeric aids your body in battling free radicals, contributing to a healthier you.

Supports Cardiovascular Health: Turmeric has been associated with heart health, helping to maintain your cardiovascular well-being.

Powerful Adaptogen for Mood: As a known adaptogen, turmeric may provide support for managing mood and aiding in cases of depression.

Nature's Most Powerful Anti-Inflammatory: With its extensive anti-inflammatory capabilities, turmeric stands as one of nature's most powerful assets.
Product Details
Organic & Non-GMO Certified: We've gone the extra mile to bring you a certified organic and non-GMO turmeric supplement.

High Potency 1300mg Dose: Each serving offers 1300mg of turmeric curcumin with 95% standardized curcuminoids, ensuring the highest potency.

Highest Nutraceutical Grade Turmeric: We've selected the highest quality turmeric to provide you with the best nature has to offer.

Vegan, Gluten, Dairy & Soy Free: Our commitment to your well-being extends to our ingredients, as our turmeric is vegan, gluten-free, dairy-free, and soy-free.

Made in Canada: Our turmeric supplement is proudly made in Canada, adhering to strict quality standards in a cGMP certified facility. We're a small family business focused on pure, high-quality products.
More Information
Highest Potency Available with BioPerine Enhancement
Our PlantVital Turmeric Plus formula boasts an impressive 1300mg of Turmeric Curcumin per serving, with a high 95% standardized curcuminoids. What sets it apart is the addition of 10mg of BioPerine, which is derived from black pepper and has been shown to increase bioavailability and absorption by up to 500%.
The Purest Ingredients on Earth
At PlantVital, we're known for creating the purest health products on the market. Our Turmeric Plus is 100% all-natural, vegan, and non-GMO, containing ZERO fillers, binders, or additives. Plus, it's free of soy, gluten, milk, wheat, egg, GMOs, sweeteners, peanuts, shellfish, and sugar—a rarity among supplements.
Made with Care in Canada
PlantVital Turmeric Plus is produced in Canada, within a cGMP certified facility. As a small family business, we prioritize your satisfaction above all else. When you choose our turmeric supplement, you're choosing the best for your wellness journey.
Ingredients
Active Ingredients: Turmeric 95% Curcuminoids (Curcuma Longa) (root), BioPerine® (Piper nigrum) (fruit).

Inactive Ingredients (capsule): Cellulose, Magnesium Stearate.
How to Use
For optimal results, take 2 capsules daily, ideally 20-30 minutes before a meal, or as directed by your healthcare professional. Please exercise caution and avoid exceeding the recommended dose. Pregnant or nursing mothers, children under 18, and individuals with known medical conditions should consult with a physician before using this or any dietary supplement.
Elevate Your Wellness Journey
Elevate your wellness journey with the incredible benefits of turmeric and curcumin. PlantVital ORGANIC TURMERIC CURCUMIN W BIOPERINE is your partner in unlocking your body's full potential. Embrace the power of natural wellness today.