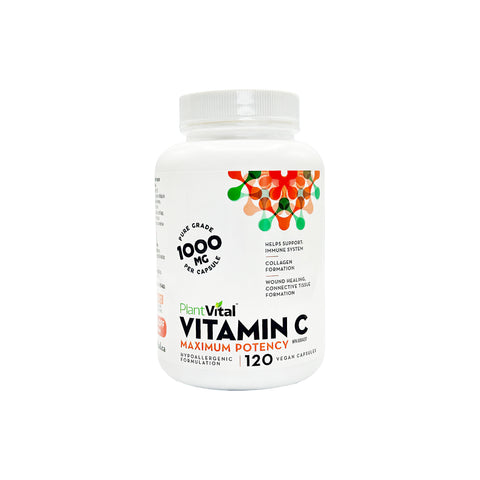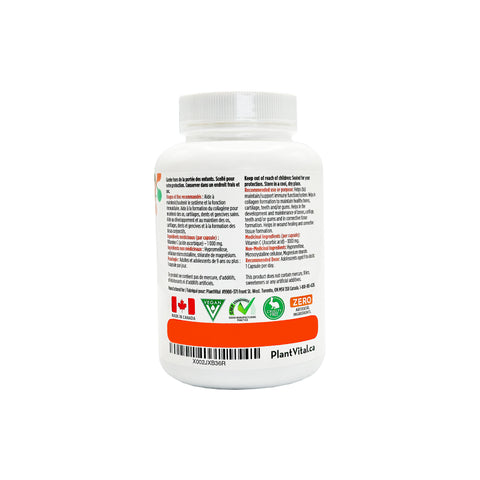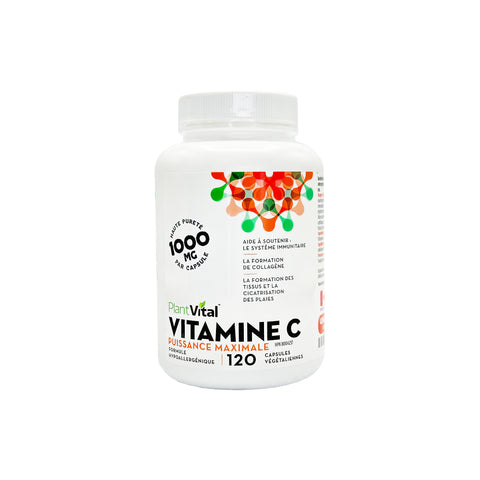 Brand:
Visit the Brand's page by clicking its name.
PlantVital VITAMIN C MAXIMUM STRENGTH (1000MG)
PlantVital VITAMIN C MAXIMUM STRENGTH - Elevate Your Health with Nature's Powerhouse
Unlock the Power of Vitamin C
Vitamin C is a vital nutrient for your body, playing a role in hundreds of functions that promote your overall health. PlantVital VITAMIN C MAXIMUM STRENGTH delivers the benefits of this essential vitamin in a convenient and potent form.
Key Benefits
Increased Energy Production: Vitamin C is a key factor in energy production, helping you stay vibrant and active.

Overall Immune System Support: It supports your immune system, helping your body defend against illnesses and stay healthy.

Can Support Healthy Blood Pressure: Vitamin C may assist in maintaining healthy blood pressure, contributing to your cardiovascular well-being.
Product Details
One of Nature's Powerful Antioxidants: As a potent antioxidant, vitamin C provides a shield against harmful free radicals that can affect your health.

1000mg per Capsule Maximum Potency: Each capsule packs 1000mg of vitamin C, offering maximum strength for your wellness journey.

Highest Nutraceutical Grade Available: We've sourced the highest quality vitamin C to ensure your body receives the best.

Non-GMO, Gluten, Dairy & Soy Free: Your well-being is our priority, so our vitamin C is non-GMO and free from common allergens like gluten, dairy, and soy.

Made in Canada: Proudly crafted in Canada, our vitamin C capsules uphold strict quality standards to ensure you receive the best.
More Information
Choose Quality Over Marketing
When selecting a vitamin C supplement, it's crucial to consider the quality of the product. Some vitamin C tablets may include added ingredients like rosehip and bioflavonoids for marketing purposes, offering minimal benefit. Gelatin capsules often derive from cows, but we use ZERO animal products in our vitamin C supplement. Many ascorbic acid sources are produced in non-regulated, substandard overseas factories. In contrast, PlantVital's vitamin C maintains the highest quality standards.
Supports Collagen Synthesis
Vitamin C plays a fundamental role in collagen synthesis, which is essential for healthy skin, hair, joints, and more. The addition of PlantVital 1000mg high-quality ascorbic acid to your wellness routine can enhance your overall health regimen.
Purchase Today with Confidence
We are a small Canadian family business focused on creating the purest, additive-free, health-enhancing products on the market. When you choose PlantVital VITAMIN C MAXIMUM STRENGTH, your satisfaction is 100% guaranteed.
Ingredients
Active Ingredient: Vitamin C (as Ascorbic acid).

Non-Medicinal Ingredients (Capsule): Vegetable capsule, microcrystalline cellulose, magnesium stearate (vegetable grade).
How to Use
For optimal results, take 1 capsule daily. Vitamin C is a factor in maintaining good health, supporting fat and protein metabolism, aiding in the development and maintenance of bones, cartilage, teeth, and gums, promoting connective tissue formation, and assisting in wound healing. As with any dietary supplement, pregnant or breastfeeding individuals should consult with a healthcare practitioner prior to use.
Elevate Your Health with PlantVital
Elevate your health with the powerhouse of vitamin C. PlantVital VITAMIN C MAXIMUM STRENGTH is your partner in reaching your wellness goals and maximizing your health. Embrace the power of nature and wellness today.