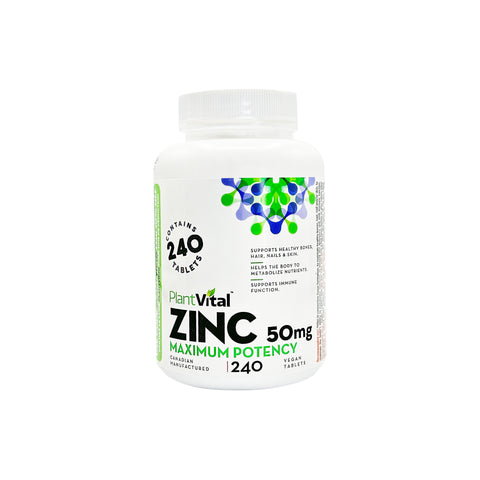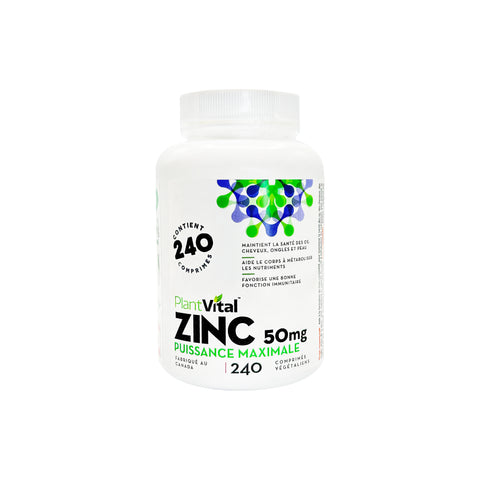 Brand:
Visit the Brand's page by clicking its name.
PlantVital ZINC SUPPLEMENT HIGH POTENCY 50MG
Optimize Your Health with High Potency Zinc
Key Benefits
Managing Hormonal Health: Maintain hormonal balance and support various physiological processes.

Fights Oxidation: Zinc serves as an essential antioxidant, combatting oxidative stress and promoting overall health.

Enhances Immunity: Strengthen your immune system to ward off infections and stay in top health.

Ensures Proper Protein Absorption: Zinc plays a crucial role in protein metabolism, ensuring you receive the full benefits of your dietary proteins.

Enhances Cardiovascular Health: Contribute to a healthy heart and cardiovascular system with this essential mineral.
Product Details
High Potency 50mg: Each serving offers a potent 50mg dose of zinc, ensuring you get the maximum benefits.

100% Made in Canada: Our product is proudly Canadian, adhering to the highest quality standards and regulations.

GMP Certified, Non-GMO Certified: Our commitment to quality extends to Good Manufacturing Practices (GMP) and non-GMO certification, guaranteeing a superior product.
Why Take PlantVital Zinc with High Potency?
Zinc is vital for a multitude of health factors, including connective tissue formation, maintaining healthy bones, hair, nails, and skin, metabolizing nutrients, and supporting immune function. But not all zinc supplements are created equal. Many are produced in dubious overseas factories with no quality control. In contrast, our product is proudly 100% made in Canada. It's GMP certified, non-GMO, and free from additives.
Understanding Zinc Supplements
There are various forms of zinc supplements available. Our product uses Zinc Gluconate, which has distinct advantages. Unlike Zinc Citrate and other forms, Zinc Gluconate doesn't leave a metallic aftertaste, and it's known for its easy absorption.
The Power of PlantVital Zinc
Zinc is widely used for prostate health, and it's crucial for your sense of smell, taste, and vision. It plays a vital role in supporting hormonal and reproductive health. Zinc gluconate tablets are also beneficial for the body's metabolism of carbohydrates, fats, and proteins.
Purchase with Confidence
PlantVital Zinc High Potency undergoes triple 3rd party testing, adhering to the strictest industry standards. We are a small Canadian family business committed to producing the purest, additive-free health-enhancing products on the market. Your satisfaction is 100% guaranteed. NPN 80111337.
Ingredients
Active Ingredient: Zinc (Zinc gluconate) 50 mg

Non-medical Ingredients: Microcrystalline cellulose, Dicalcium phosphate dihydrate, Stearic acid, Magnesium stearate, Hydroxypropyl methylcellulose
How to Use
For adults only: Take 1 tablet daily to receive the benefits of high-potency zinc.