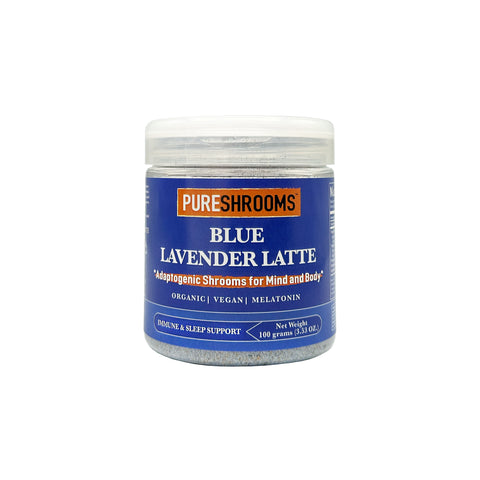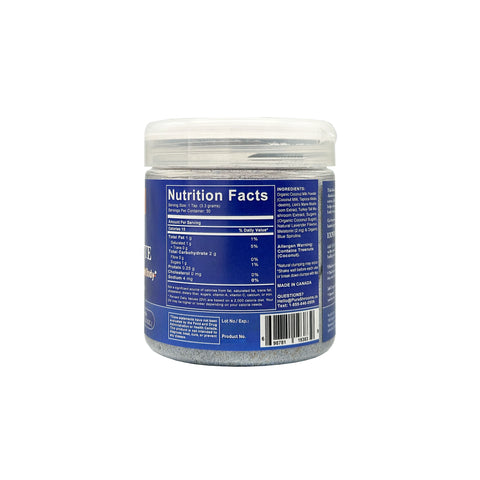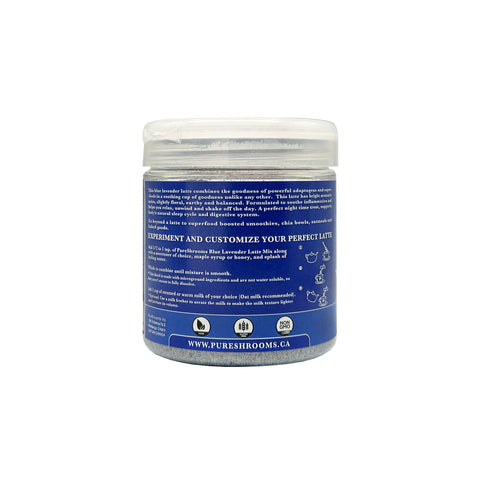 Brand:
Visit the Brand's page by clicking its name.
Pureshrooms Blue Lavender Latte
Pureshroom Blue Lavender Latte - Your Bedtime Bliss
Your New Nighttime Ritual
Unwind with Pureshroom Blue Lavender Latte
Elevate your nightly routine with our Pureshroom Blue Lavender Latte, designed to help you unwind and relax. This warm and soothing latte combines subtle sweetness and the aromatic floral notes of lavender, creating a delightful bedtime beverage.
Your New Night Time Routine
Formulated to soothe inflammation, support your body's natural sleep cycle, and aid digestion, our latte contains carefully selected ingredients to help you rejuvenate while promoting a calm and relaxed state of mind.
Create a Vibrant Blue Latte
Organic blue spirulina gives our latte its spectacular, vibrant blue hue. Beyond its stunning appearance, blue spirulina is a nutritional powerhouse, rich in vitamins, minerals, and antioxidants. Enjoy it as a delicious latte or incorporate it into smoothies, oatmeal, baking, and more.
Let Turkey Tail + Lion's Mane Work Their Magic Overnight
Packed with potential health benefits, our latte is like a fun-gi in a cup! Turkey Tail and Lion's Mane, known for their immune support and brain health benefits, make an exceptional tag-team duo.
Ingredients You'll Love
Organic Coconut Milk Powder (Coconut Milk, Tapioca Maltodextrin)
Our organic coconut milk powder is created by extracting coconut milk from fresh organic coconut meat, which is then spray-dried and reduced to a fine powder. Blended with a small amount of organic tapioca starch (maltodextrin) and organic acacia gum, it's high in magnesium, perfect for unwinding during your nighttime routine.
Organic Coconut Sugar
Coconut palm sugar serves as a plant-based sweetener with nutritional value, offering minerals and amino acids compared to highly refined sweeteners.
Organic Turkey Tail Mushrooms (550mg per serving)
Think of Turkey Tail as your health cheerleader, offering a combination of benefits, including immune support, gut health, and inflammation reduction.
Organic Lion's Mane (550mg per serving)
Lion's Mane, a powerhouse mushroom, supports brain health and the immune system with antioxidants, B vitamins, and anti-inflammatory compounds.
Natural Lavender, Organic Blue Spirulina
Natural lavender has been used for centuries to ease anxiety and promote sleep. Blue Spirulina is rich in vitamins, minerals, and antioxidants, supporting the natural production of melatonin.
Melatonin 2mg per serving
Melatonin is a hormone that helps combat sleep issues like insomnia. In this latte, it serves as a supplement to aid in a restful night's sleep.
Micro-Ground Ingredients
All our ingredients are micro-ground for better absorption of health benefits and versatility. While not water-soluble, they enhance a variety of dishes beyond typical protein shakes or smoothies.
Embrace the soothing and relaxing qualities of Pureshroom Blue Lavender Latte in your nightly routine, and wake up feeling refreshed and rejuvenated. Your path to bedtime bliss awaits!
Weight: 100g