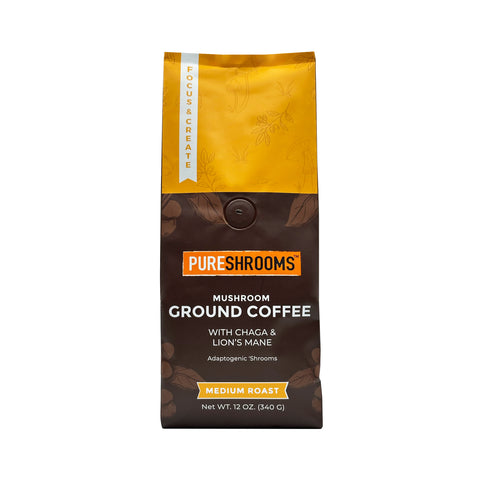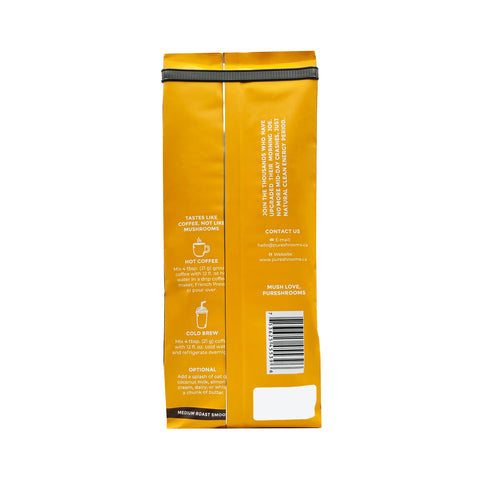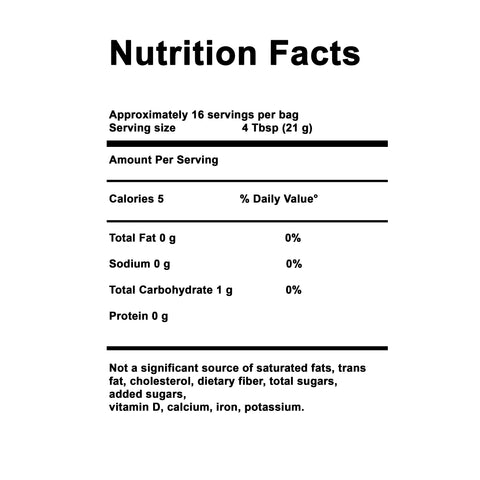 Brand:
Visit the Brand's page by clicking its name.
Pureshroom Focus & Create Mushroom Ground Coffee
Pureshroom Focus & Create Mushroom Ground Coffee
Upgrade Your Morning Routine with Pureshroom Focus & Create Ground Coffee
Upgrade your morning routine with Pureshroom Focus & Create Ground Coffee. This smooth, medium brew offers a crash-free experience, providing you with a delightful start to your day. We've carefully paired premium coffee with two unbelievably effective ingredients: Lion's Mane and Chaga. Prepare to experience a cognitive boost, enhanced focus, and a sense of calm and clean energy that lasts all day. Say goodbye to morning brain fogs and embrace a revitalized mind.
Ground Coffee with Lion's Mane & Chaga
Crash-Free Coffee for Focus, Memory & Immune Support.
Indulge in a smooth and balanced coffee experience that's rich in taste and free from any mushroom flavor. This blend is designed to power up your mornings with an elevated sense of energy and focus. Say goodbye to distractions and hello to enhanced productivity.
Your Brain's Best Friend
This 'shroom blend packs a powerful punch of cognitive support, helping you focus, remember, and think clearly. Sip, savor, and let Lion's Mane unleash your inner genius—one cup at a time! Experience the transformative power of Lion's Mane mushroom and enjoy a coffee that fuels your mental clarity.
Immune Support with Chaga
Get ready to 'chaga' your way to better health! Our Mushroom Coffee with Chaga packs a punch of antioxidants and immune-boosting properties, helping you defend against the daily grind. Sip, savor, and feel the power of the 'shroom—one cup at a time! Prioritize your well-being and let Chaga work its magic.
Brew to Your Perfection
Perfect for pour-over, French press, or drip and espresso coffee machines. Fair Trade Arabica Coffee.
Our coffee beans are ethically sourced and Fair Trade Certified. They undergo a smooth medium roast process, offering a delightful balance of body and liveliness. Brew your coffee to perfection and enjoy a well-rounded, smooth, and rich taste. You'll be pleasantly surprised that there is no mushroom taste whatsoever—witness how exceptional this coffee truly is!
Organic Lion's Mane (750mg per serving)
Unlock the potential of your brain with Lion's Mane. This mighty mushroom is known for boosting brain power and supporting immune health. Packed with antioxidants, B vitamins, and anti-inflammatory compounds, Lion's Mane provides a serious nutritional punch. Whether you're working on a project or strengthening your defenses, Lion's Mane is the perfect mushroom for you. Embrace the power of this mane-ly mushroom and experience its benefits.
Organic Chaga (750mg per serving)
Meet the king of the forest floor: Chaga mushroom. This rugged yet regal fungus is your ultimate health and wellness companion. Loaded with antioxidants, fiber, and polysaccharides, Chaga works tirelessly to keep you feeling your best. From boosting your immune system to reducing inflammation, Chaga is the all-in-one wellness solution you've been searching for. Don't be fooled by its rough exterior—the smooth, slightly earthy flavor of Chaga pairs perfectly with coffee, tea, or even smoothies.
We love a regular cup of joe, but it has its downsides. We combined two of the most popular mushrooms to deliver a "magical" mushroom coffee experience. This combination supports cognition and immunity. Upgrade your coffee and experience a crash-free coffee experience!
Weight: 340g