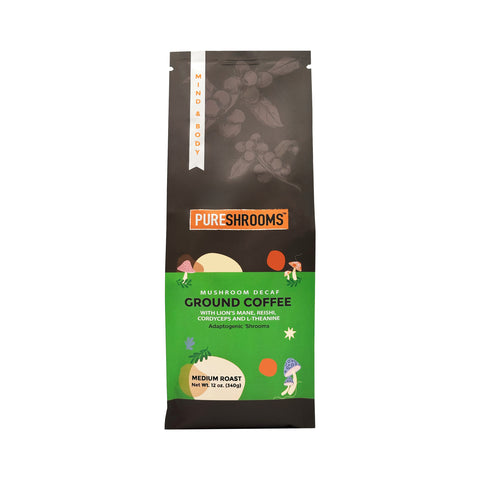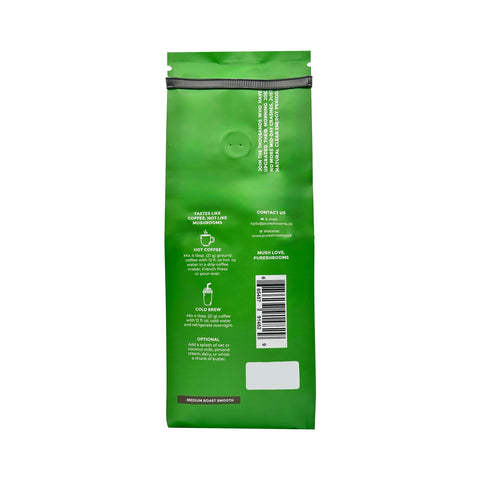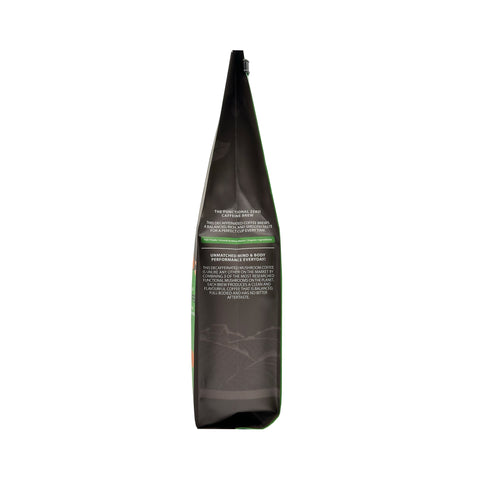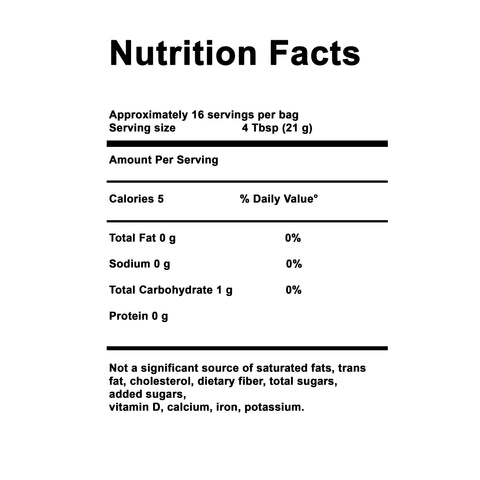 Brand:
Visit the Brand's page by clicking its name.
Pureshroom Swiss Water Decaf Mushroom Coffee
Pureshroom Swiss Water Decaf Mushroom Coffee
Zero Caffeine. Balanced Flavor.
Experience the rich, balanced flavor of our Swiss Water Decaf Mushroom Coffee. This medium roast blend is crafted with decaffeinated coffee combined with Cordyceps, Lion's Mane, and Reishi mushrooms, offering a deliciously balanced brew for the mind and body.
Zero Caffeine. Elevate Your Well-being.
Indulge in the zero-caffeine experience of our Swiss Water Decaf Mushroom Coffee. Loaded with adaptogens, this brew helps your body find balance and combat occasional stress. Elevate your energy levels, improve focus, and boost your immunity with each sip.
Swiss Water Decaffeination Process. Pure Flavor.
Our Swiss Water Decaf Mushroom Coffee undergoes a chemical-free decaffeination process that utilizes water to remove caffeine from the coffee beans. This method preserves the natural flavors and aromas of the coffee, resulting in a pure and satisfying cup.
Brew to Perfection. Versatile and Ethical.
Brew your perfect cup of Swiss Water Decaf Mushroom Coffee using your preferred method, whether it's pour-over, French press, drip coffee machines, or espresso machines. Our ethically sourced coffee beans are Fair Trade Certified, ensuring a responsible and enjoyable coffee experience.
Mushroom Power Trio. Enhance Your Well-being.
Our Swiss Water Decaf Mushroom Coffee combines the power of three extensively researched mushrooms:
Organic Lion's Mane (500mg per serving)
Lion's Mane is a mighty mushroom known for boosting brain power and supporting immune health. Packed with antioxidants, B vitamins, and anti-inflammatory compounds, Lion's Mane enhances cognitive function and helps you stay resilient. Unleash your potential with this mane-ly mushroom.
Organic Cordyceps (500mg per serving)
Cordyceps mushrooms are like superfood superheroes in disguise. These tiny powerhouses provide a natural energy boost and enhance endurance, all without any creepy crawly ingredients. Fuel your active lifestyle with our vegan-friendly Cordyceps and unleash your inner athlete.
Organic Reishi (500mg per serving)
Reishi acts as your personal wellness coach, supporting your immune system, reducing stress and anxiety, and improving sleep quality. Packed with antioxidants, polysaccharides, and triterpenoids, Reishi keeps you feeling your best. Upgrade your health game with this remarkable mushroom.
 L-Theanine. Find Your Zen.
L-Theanine, the chill and collected amino acid, offers the perfect balance of peace and power. Consider it your personal mindfulness coach, reducing stress and anxiety, improving sleep quality, and promoting a positive mood. Embrace mindfulness and add this zen master to your daily routine for a harmonious mind and body.
High-Quality Standards Maintained at Pureshroom
The significance of prioritizing the health and wellness of valued customers is understood at Pureshroom, where unwavering commitment to delivering exceptional products is rooted. Compliance with health codes and government regulations is adhered to, and extensive testing by a third party is conducted to ensure the safety of all products.
The highest quality standards are maintained through rigorous processes. Ingredients undergo multiple tests, including ICP-MS heavy metal test (Hg, As, Pb, Cd), FTIR purity test, UV-Vis potency test, Titration potency test, Microbiology contamination test, and Loss on drying, pH, density, and particle size tests. Working with suppliers who have earned NSF International's GMP registration demonstrates the dedication to quality and compliance.
The NSF GMPs, developed in accordance with the U.S. Food and Drug Administration's (FDA) 21 CFR part 111 regulation, are followed to ensure consistent processing, manufacturing, and labeling, meeting the highest quality standards. When purchasing from Pureshroom, customers can be assured that all necessary steps have been taken to ensure the safety and quality of the products.
Weight: 340 gr