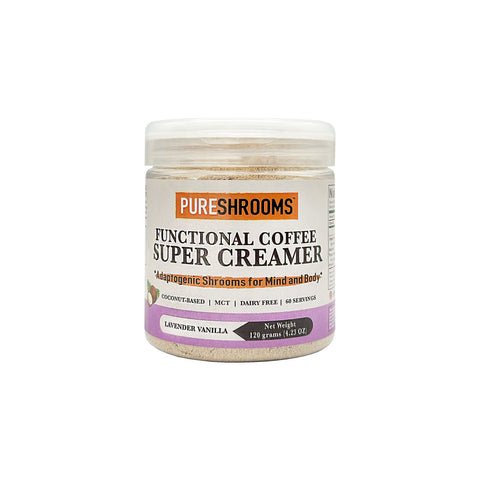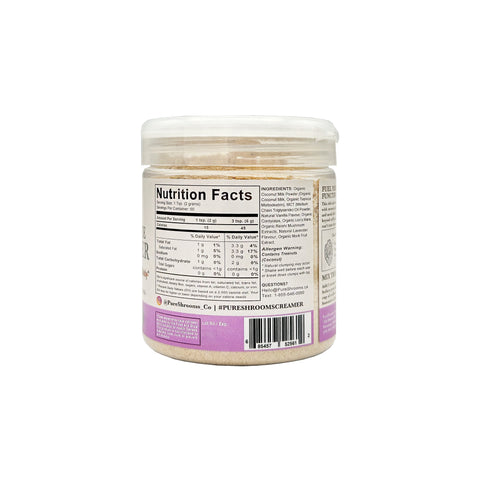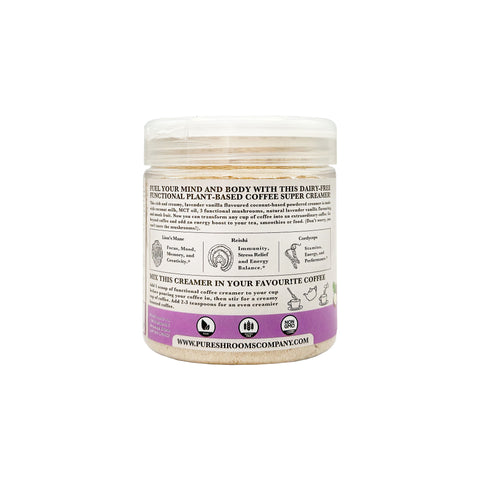 Brand:
Visit the Brand's page by clicking its name.
Pureshrooms Lavender Vanilla Coconut Coffee Creamer
Pureshrooms Lavender Vanilla Coconut Coffee Creamer - Elevate Your Coffee with a Twist
Creamer Beyond the Ordinary
Elevate Your Coffee Experience
Enhance your coffee with a functional twist using our coconut-based powdered creamer. This creamer is a blend of functional and organic ingredients, including Coconut Milk, MCT Oil, three adaptogenic mushrooms (Lion's Mane, Reishi, and Cordyceps), a hint of natural Vanilla, and a touch of Lavender. It's not just a creamer; it's an elevation of your coffee experience.
Creamer with a Unique Twist
Say farewell to creamers filled with fillers and embrace the purity of organic mushroom extracts. These superfood ingredients are here to boost cognitive function, assist in fat burning, and provide a steady source of clean energy.
Flavourful, Dairy-Free Delight
Bid adieu to dairy and sugar, and savor the delightful flavors of our functional creamer. Our Non-Dairy Functional Super Coffee Creamer is the ideal way to fuel your mind and body while indulging your taste buds.
Functional Mushrooms at Work
With 333mg of mushrooms per serving, our creamer features:
Organic Coconut Milk Powder: Crafted from organic coconut milk and organic tapioca maltodextrin.
MCT (Medium Chain Triglyceride) Oil Powder: Enhances your coffee with sustained energy and cognitive support.
Natural Vanilla Flavour: Adds a delightful hint of vanilla to your cup.
Organic Cordyceps, Lion's Mane, Reishi Mushroom Extracts: Adaptogenic mushrooms offering a unique blend of benefits.
Natural Lavender Flavour: Infuses a subtle touch of lavender for a soothing coffee experience.
Organic Monk Fruit Extract: A natural sweetener for a touch of sweetness.
Elevate your coffee to new heights with Pureshrooms Lavender Vanilla Coconut Coffee Creamer. It's more than just creamer; it's a journey into a flavor-packed and functional coffee experience.
Weight: 120g