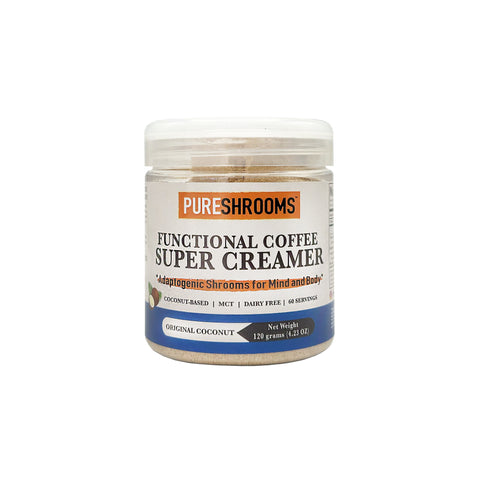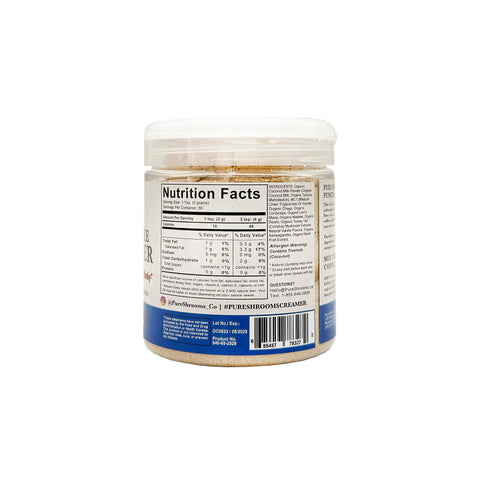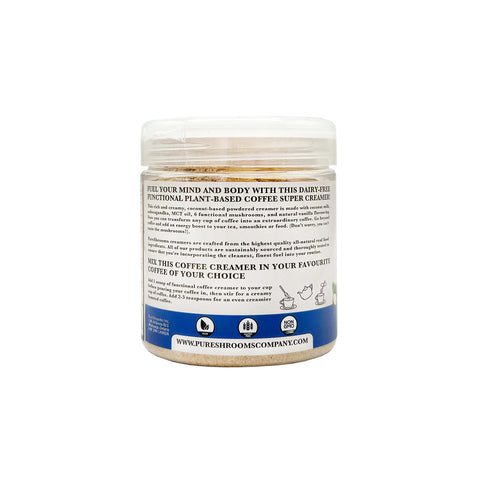 Brand:
Visit the Brand's page by clicking its name.
Pureshrooms Original Coconut Coffee Creamer
Pureshrooms Original Coconut Coffee Creamer - Elevate Your Coffee Experience
Beyond the Ordinary Coffee Creamer
A Coffee Game Changer
Elevate your coffee experience with our coconut-based powdered creamer, crafted with functional and organic ingredients. This powerhouse creamer features Coconut Milk, MCT Oil, six adaptogenic mushrooms (Lion's Mane, Reishi, Cordyceps, Chaga, Turkey Tail, and Maitake), Ashwagandha, and Natural Vanilla. It's not just creamer; it's a transformation in a cup.
A Creamer That Exceeds Expectations
Say farewell to bland, ordinary creamers and embrace the goodness of pure organic mushrooms, free from fillers and carriers. MCT Oil aids in slowing caffeine absorption, providing sustained energy and cognitive enhancement. Ashwagandha adds stress relief and fights fatigue, turning your coffee break into a moment of rejuvenation.
Revolutionize Your Coffee
Bid adieu to dairy and sugar, and welcome the functional benefits of our creamer. Enhance your coffee with our Non-Dairy Functional Super Coffee Creamer. Supercharge any cup of coffee with this creamer, enriched with 333 mg of Mushrooms and Ashwagandha per serving.
Ingredients for Excellence
Unveil the ingredient list that sets our creamer apart:
Organic Coconut Milk Powder: Made from organic coconut milk and organic tapioca maltodextrin.
MCT (Medium Chain Triglyceride) Oil Powder: Delays caffeine absorption for sustained energy and cognitive enhancement.
Organic Chaga, Cordyceps, Lion's Mane, Maitake, Reishi, and Turkey Tail (Coriolus) Mushroom Extracts: Adaptogenic mushrooms that add a unique blend of benefits.
Natural Vanilla Flavour: Enhances the taste with a delightful vanilla note.
Organic Ashwagandha: Provides stress relief and combats fatigue.
Organic Monk Fruit Extract: A natural sweetener for a touch of sweetness.
Unleash the potential of your daily coffee ritual with Pureshrooms Original Coconut Coffee Creamer. It's more than creamer; it's your daily dose of vitality in a cup.
Weight: 120g