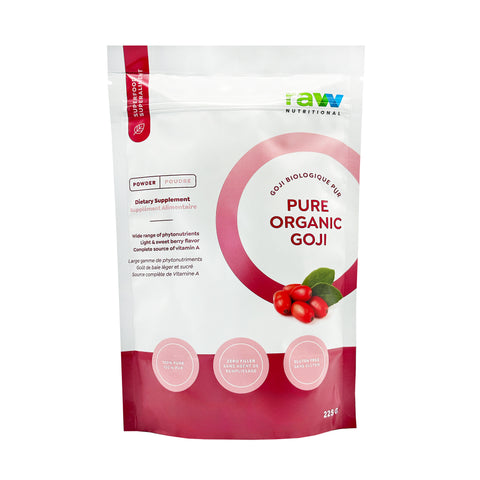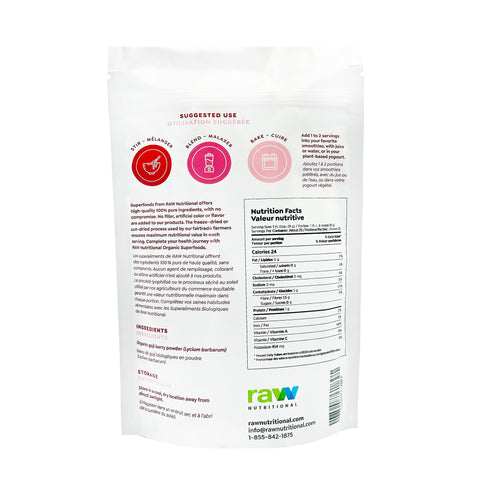 Brand:
Visit the Brand's page by clicking its name.
RAW Nutritional Pure Organic Goji
RAW Nutritional Pure Organic Goji - 225g, 25 Servings
Nutrient-Rich and Nutritious
Discover the Goji Berry
Goji Berries have a unique and delightful flavor, reminiscent of dried cherries, raisins, and cranberries. These berries are packed with vital nutrients, including complex carbohydrates and complete proteins.
A Time-Honored Superfood
For centuries, Goji berries have held a special place in Asian cultures as one of the most nutrient-dense foods. They're often referred to as "The Happy Berry." Local legends suggest that those who consumed Goji berries in tea and other forms enjoyed robust health and high spirits.
Western Wellness Revelation
Recent times have seen Western cultures embracing the incredible benefits of including Goji berries in their diets. With their rich blend of phytonutrients, vitamins, and minerals, Goji berries have earned their status as a true superfood.
How to Enjoy Goji Powder
Versatile Culinary Delight
Goji Berries offer versatility in usage. Our Goji Berry Powder enhances the flavor of oatmeal, cookies, cereals, and smoothies. It can also be transformed into a nutritious tea with hot water.
Daily Delights with Pure Organic Goji Powder
Pure Organic Goji Powder seamlessly blends into smoothies, tea, yogurt, desserts, and muffin batters. The culinary possibilities are endless, and the taste consistently delightful.
Sourced from the Lush Valleys of Ningxia, China
Goji berries thrive in the fertile valleys of China's Ningxia Province, renowned for producing some of the highest-quality goji berries globally. The berries are hand-harvested during peak ripeness, gently sun-dried to preserve their nutritional potency, and subsequently processed into powder.
Ingredients
Organic Goji Berry Powder (Lycium Barbarum)