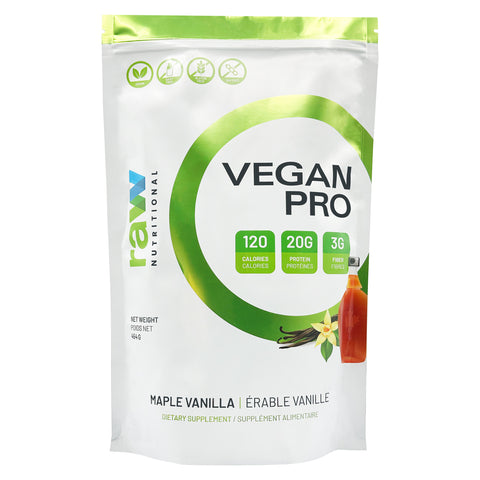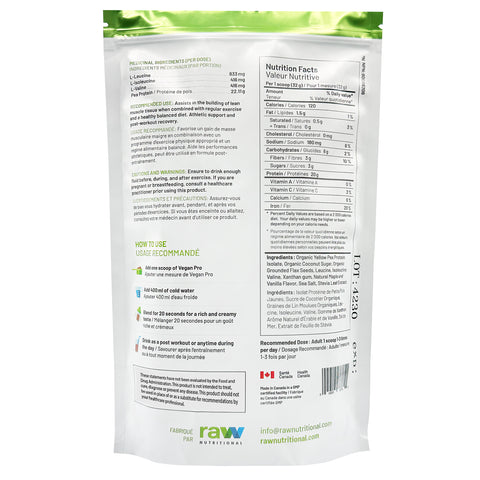 Brand:
Visit the Brand's page by clicking its name.
RAW Nutritional Vegan Protein (vanilla)
RAW Nutritional's vegan protein powder is truly the best tasting plant-based protein powder on the market. It not only offers exceptional taste but also provides numerous health benefits.
Healthy and Non-Bloating: This protein powder is designed to be healthy and non-bloating, making it suitable for individuals looking to improve their fitness goals without experiencing discomfort.

Sustained-Release Formula: The protein powder has a sustained-release formula, meaning it provides a slow and steady release of protein to support muscle growth and give you the energy needed for intense workouts.

Low in Fat and Carbohydrates: The protein powder has a low fat and low carbohydrate content, making it ideal for individuals aiming to build lean muscle while maintaining a balanced diet.

Full Amino Acid Profile and High in BCAAs: This vegan protein powder offers a complete amino acid profile, including high levels of branched-chain amino acids (BCAAs). BCAAs are essential for muscle growth, maintenance, and recovery. (Broad-spectrum of 18 amino acids)

Organic and Delicious: The protein powder is both organic and delicious, ensuring that you're consuming a high-quality product that tastes great. It is sweetened naturally, without artificial flavors, and provides a satisfying flavor experience.

Additional Nutritional Benefits: RAW Nutritional's protein powder contains omega-3 and omega-6 fatty acids from flaxseeds, along with magnesium and fiber. These additional nutrients contribute to overall well-being and can help with satiety.

Hypoallergenic and Free from Common Allergens: This protein powder is hypoallergenic and free from common allergens such as dairy, gluten, lactose, soy, peanuts, and wheat. It is an excellent option for individuals with allergies or food sensitivities.
- Alkaline PH level for optimal health

- Vegan
454g (1lb - 15 servings)
How to Use:
   Take one scoop in 350-500ml of liquid, 1 to 3 times per day. Fits perfectly with almond milk, cashew milk, oats, yogurt, natural juice, smoothie or baking recipe.
MEDICINAL INGREDIENTS (PER DOSE):
Pea Protein Isolate 22.11 g, L-Leucine 833 mg, L-Isoleucine 416 mg, L-Valine 416 mg.
MAPLE-VANILLA
NON-MEDICINAL INGREDIENTS: Organic Coconut Sugar, Organic Ground Flaxseeds, Xanthan Gum, Natural Maple and Vanilla Flavor, Sea Salt, Stevia Leaf Extract.