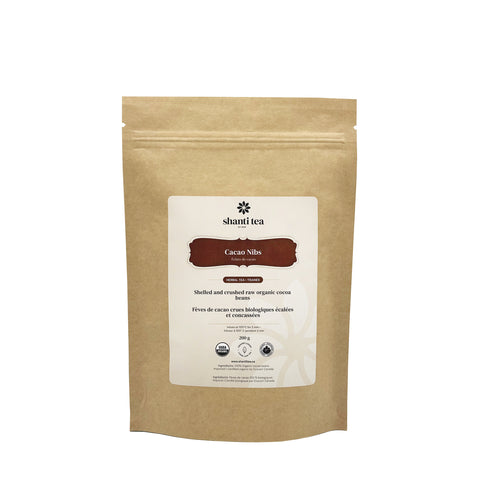 Brand:
Visit the Brand's page by clicking its name.
Shanti Cacao Nibs, Organic
 Shanti Tea offers cacao nibs, which are shelled and crushed cocoa beans that have been dried with warm air (not hot), preserving their raw qualities. These nibs have a strong and delicious chocolate aroma and a semi-bitter flavor, which is characteristic of the pure Arriba bean.
Cacao nibs are known to be an excellent source of antioxidants, fiber, iron, and magnesium. They provide a crunchy texture without being overly hard, making them perfect as a snack or a topping for various culinary creations. Whether you want to add them to smoothies, hot chocolate, lattes, or baked goods, cacao nibs can enhance the flavor and add a delightful crunch.
Additionally, the cacao nibs are certified Kosher Pareve, meeting the dietary requirements of individuals following a kosher diet. Furthermore, they are allergen-free.
Ingredients:
   100% Organic Cocoa Beans
Kosher Pareve
Allergen Free
Weight:
200g