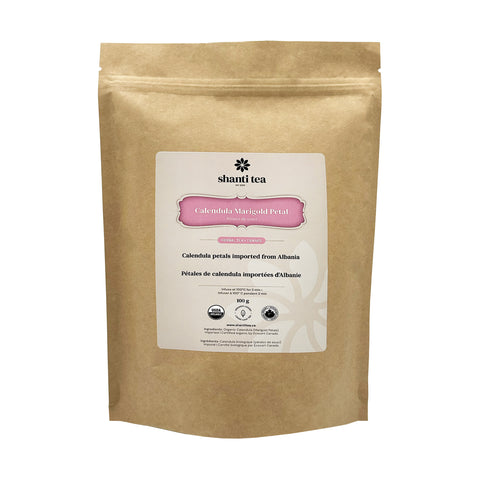 Brand:
Visit the Brand's page by clicking its name.
Shanti Calendula Marigold Petal, Organic
Calendula (Calendula officinalis) is indeed a versatile and well-known medicinal herb with a rich history of therapeutic, ceremonial, and decorative uses. Traditionally, calendula has been valued for its topical applications and has been utilized for wound healing, skin hydration, and firmness.
When applied topically, calendula has shown potential in aiding wound healing by promoting increased blood flow and oxygen to the affected area, which supports the growth of new tissue. It is commonly used in the form of dried petals, which can be incorporated into tinctures, ointments, and washes for the treatment of burns, bruises, cuts, and minor infections.
Furthermore, calendula can be prepared as a tea or tincture using the fresh plant, allowing for internal consumption. The fresh flowers of the calendula plant are also edible and can be used in culinary applications, adding a vibrant touch to salads, soups, or garnishes.
Ingredients:
   Organic Calendula (Marigold Petals)
Weight:
100g